Blog Menu
21 Virtual Icebreakers to Start the School Year on a High Note
By Krista Hart | August 6, 2020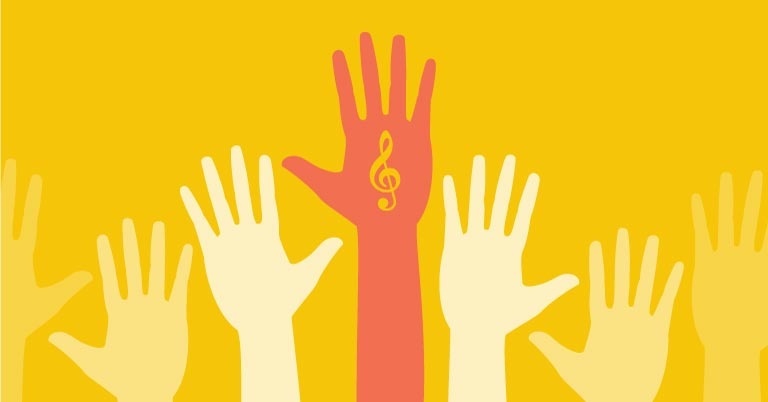 Looking for a good way to kick off your first virtual classes this fall? Wondering how you will get to know your students through that computer screen? It may be more of a challenge this year to get acquainted, and to have those light-hearted moments during class, but no less important. Here are some icebreaker activities for virtual teaching to start things off on a high note:
Alphabet Soup
Use the breakout room feature to divide the class into small groups. Students have five minutes to work together to come up with a list of musical words or phrases that begin with each letter of the alphabet. Example: A is for a cappella; B is for Blues music; C is for calypso; etc. One person in each group will need to record the answers, and one will read the list when you come back together as a group.
Digital Calling Card
Many teachers have created virtual classrooms in Google Slides and inserted their emoji to make things more personable. Before class, ask students to create their own slide with their bitmoji or photo, images of things they like to do, favorite things, family, pets, create a "scene," etc. Share during class as a way to connect with other students, then save them for your own reference throughout the year.
Finding Common Ground
Use the breakout room feature to divide the class into small groups. Students have five minutes to come up with a list of the things they have in common. This could be anything from the number of siblings they have, whether they all have pets, a band they all like, etc. At the end of the five minutes, come back together and have each group read their list of commonalities.
Guess Who?
Before class, set up a poll that lists each person in the class (just use a placeholder question in necessary). At the beginning of class have each student send you (and only you) a unique or funny fact about themselves in the chat window. When all have been received, read a fact out loud and let the students vote on who they think wrote it using the poll. You could do the entire class in one day, or break it up over the course of a week.
I Spy
Have everyone use gallery view so that you can see everyone's screen. Choose one student to "spy" something in the background of someone's window. Each student gets a chance to either ask a question about the object, or guess what it is.
Mad Libs
Take a familiar song (pop song, folk song, or piece you are working on in class) and create a mad lib in Google Docs from the lyrics. Type up the mad lib in advance and set a predetermined order for the students to respond. Share the Google Doc on screen, and fill in the blanks as each student gives their answer.
Musical Superpowers
You may have played the icebreaker game in which each person has to choose a superhero to be and explain why they chose it. In this version, each student will choose a musical superpower to possess and tell why they want it. Examples: the ability to sight-read in a single glance; super lung capacity to hold long notes for hours; extendable fingers to reach more keys on the piano; etc.
Once Upon a Time …
In this activity the group will write a story together, one sentence written by each person. Before class begins, have a predetermined order of names (could be alphabetical, by section or voice part, random, etc.). Have a list of prompts up on screen:
Once upon a time…
Each day…
Until one day…
And because of that…
And because of that…
Until finally…
And ever since that day…
The first person on the list provides the first sentence of the story, beginning with "Once upon a time…" and the story continues with the next player and the next prompt. You can add prompts to the list as needed, or create multiple stories. This activity would also work in breakout rooms with one student writing down the story and another reading it to the full class.
A Picture Is Worth a Thousand Words
The students will each choose a well-known movie, book, song, or musician that they love. Give them five minutes to find five photos that represent or describe the book (without using images from the actual movie or of the person, song, or book). Each person takes a turn revealing their five photos, and the rest of the group tries to guess the movie or book.
Scavenger Hunt
Share a list of 10 objects with the class. Challenge them to see how many they can find in their house in the next five minutes. The list can include simple items (book, pillow, shoe) or more involved (something that makes a musical sound, a blue object, something that looks like a music symbol).
Show & Tell
Even older students enjoy showing you their treasures and prizes! Do an old-fashioned round of "show and tell" with your class. You can choose a theme (what I did over the summer, my favorite quarantine project, pets, most unique item in your room, etc.) or allow students to randomly choose an item that's important to them.
This Is Better Than That
This can be a fun way to interact with each other by trying to persuade other members of a group. Ask each person to choose one item from their room and bring it to the computer. Don't tell them what type of item to choose or what they will do with it. Now divide the class into breakout rooms. Each member will share their item with the rest of the group. Tell the group that they must now select one of these items to be the only thing they can have with them on a deserted island. The owner of each item should make a "pitch" to persuade the other members of the group that their item is the most useful, important, practical, enjoyable, etc. The team must decide on a winning item, then present it and describe why they chose it to the full class.
Toilet Paper Game
This is an classic icebreaker game, but maybe even more relevant not because of the quarantine shortages! Ask each student how many squares of toilet paper they want but don't tell them why you are asking. You could even ask students to go to the bathroom and grab the number of squares they want. (You may want to set a maximum number to manage time.) For each square of toilet paper the student must tell one fact about themselves.
Trivia Time
Prepare a list of music trivia questions and two possible answers. Examples:
How many beats does a quarter note get in 4/4 time—one or four?
Who wrote Moonlight Sonata—Mozart or Beethoven?
Does the time signature appear before or after the clef sign?
Are there four or five families of instruments in the orchestra?
Make sure everyone is using the gallery view on screen. Explain that if you think the answer is the first choice, you put your hand on your head. If you think the answer is the second choice, put your hand on your shoulder. When you give the answer, anyone who responded incorrectly is eliminated from the game by turning off their video temporarily (but remaining in the meeting). The last person left on screen is the winner!
Tweets
For this activity, each student will describe themselves in a tweet (140 characters or less), without revealing their name. Give them five minutes to write the tweet, then send it to you (and only you) in the chat window. Read each tweet to the group and try to guess who wrote it.
Virtual Backgrounds
Use the virtual background feature to spark conversation! Establish a theme and ask students to choose a virtual background to match. Each student gets one minute to talk about why they chose their background. Themes could be:
Favorite album
Special memory from last year
Place they wish they could be
Scene from a favorite movie
Funny choir meme
Vocal Exploration
A fun way to do some vocalizing in a non-intimidating way. Everyone will be pretending to throw an invisible ball to each other. The "thrower" says the name of the person they are "throwing" to, then sings a pattern or makes a unique vocalization. The "catcher" has to repeat the pattern/sound, then they become the "thrower," calling out the next name and singing their own pattern. The game continues until everyone has caught the ball once. Begin the game with everyone raising their hand (either physically or using the "raise hand" feature) so it's easy to see who has not caught the ball yet.
What Is That?
To prepare for this activity, take (or find) photos that are close-ups of various musical instruments. For example, just the top of a valve on a trumpet, or the soundhole of a guitar. Show one picture at a time to the group and let them guess what it is they are looking at. Start with a couple of easier photos to get them warmed up, then get progressively more difficult.
Which Instrument Are You?
Each student chooses a musical instrument that they think is most like them. Have everyone give a short description of why they chose this instrument.
Would You Rather?
Develop a list of questions to spark conversation and debate:
Would you rather listen to your younger sibling's music, or your parent's music?
Would you rather travel back in time, or to the future?
Would you rather be without your phone, or without the internet?
Would you rather be an adult or a little kid your whole life?
Would you rather be Batman or Spiderman?
Your Name in Lights
Students design a slide to look like the opening credits of a movie to introduce themselves. Then choose a theme song to play with the slide. Everyone describes why they chose their song.
---
Krista Hart is a former music educator with a passion for choral music. She taught middle school music and spent nearly a decade assisting directors in choosing literature at Senseney Music. She is the author of the books Music-Go-Round, A Music Teacher's Gratitude Journal, and The Mindful Music Classroom.
View Author Page
Want More? Don't miss a beat!
We're passionate about providing music educators with teaching solutions. Sign up to get inspiration delivered to your inbox!
Stay Updated
Want to get the latest updates and special offers from Alfred Music?