Blog Menu
100 Years of Music: Actions We're Taking to Make Our Catalog More Culturally Appropriate
September 18, 2020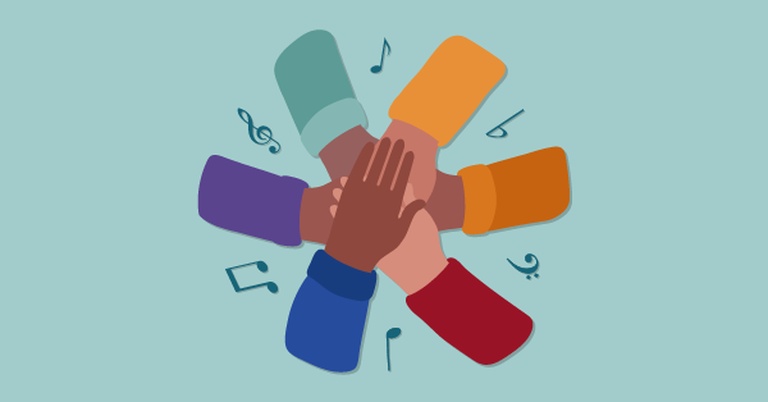 Alfred Music would like to take a moment to acknowledge the enormous challenges teachers and students are undoubtedly facing as they return to school this year. This summer, Alfred Music worked diligently to develop new resources to help suit your needs, provided insight and guidance via webinars and articles from experts that you have grown to trust and rely on, and offered advice from our unique perspective for how to approach what might be the most challenging back-to-school experience ever.
We have also spent countless hours examining our existing catalog of titles for racist, offensive, or insensitive content. In response to customer requests, and our own desire to help end the passive acceptance of material that is racially offensive, we have been carefully reviewing our vast catalog of content. Based on the result of established research into the history and context of certain songs, we may choose to make certain arrangements unavailable. Numerous individual titles have already been assessed and placed permanently out of print. We will continue this review process, but as you can imagine, with over 150,000 active titles from nearly a century in publishing, this is no small task. However, it is one that we are committed to achieving. This process will take time, and we at Alfred Music appreciate your patience as we focus our sincerest efforts on this meaningful task.
Alfred Music has always strived to be a key component of the classroom music setting. Whether you're a general music teacher, a choir director, or an instrumental music instructor, we offer content that will serve you well—content that will educate your students and entertain your audiences. It is equally important that this music be culturally appropriate and part of an effort that makes real change in the world. Alfred Music is committed to taking action and making a lasting difference and look forward to continuing this long-term, meaningful journey with you in an effort to help the entire world experience the joy of making music.
---
Want More? Don't miss a beat!
We're passionate about providing music educators with teaching solutions. Sign up to get inspiration delivered to your inbox!
Stay Updated
Want to get the latest updates and special offers from Alfred Music?