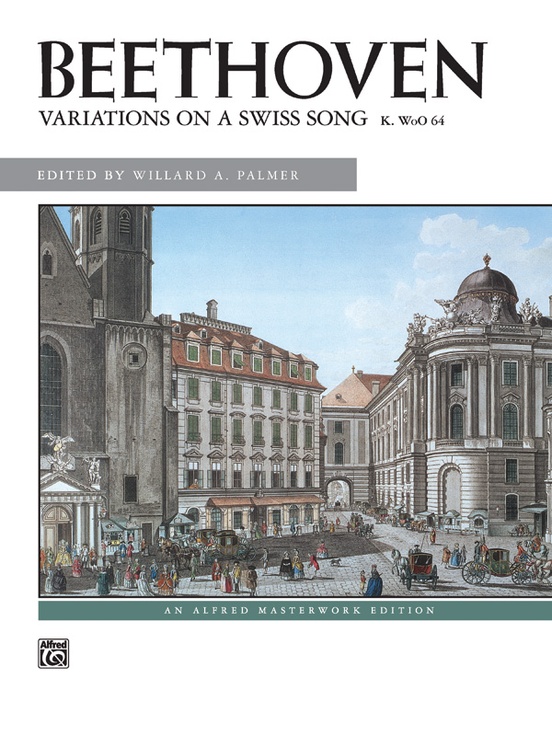 Beethoven: Variations on a Swiss Song
By Ludwig van Beethoven / ed. Willard A. Palmer
Piano Sheet
Level: Late Intermediate
Item: 00-877
Add to Cart
Add to List
Available Digitally
Share
---
Description
Ludwig van Beethoven's Variations on a Swiss Song, K. WoO 64, was composed in 1790, when the composer was not over twenty years of age.

This selection, long a favorite of piano students and teachers, becomes even more interesting when the story behind the work is known. To understand exactly how this piece should be performed the first question that needs answering is, "Variations on what Swiss song?"

The name of the song is Dursli and Babeli, and the melody and the words may be found in almost any late eighteenth-century or early nineteenth-century collection of old Swiss or German folk tunes. Among the most famous collections that include it are those of Reichardt, Herder and Müller. These sources date between 1781 and 1789. While some nineteenth century sources present the text of this song with as many as eleven verses, and with some changes in the words to the original stanzas, only seven verses were known when Beethoven wrote his variations, and the song was very popular. Goethe was said to be very fond of this song, which he describes as "a charming story of peasant love." The poet Herder wrote, "The melody is light and soaring like a lark, and the dialect swings the words along in a way that can scarcely be appreciated when one simply sees them on paper." Perhaps the most amusing aspect of this work is Beethoven's use of the staccato notes to imitate the clipped Swiss-German dialect. This piece provides an excellent example of the composer's use of three kinds of articulation marks, namely the wedge which indicated a normal staccato (not necessarily accented); the dot which was held a bit longer, and the dot under the slur, which was held still longer. It will be noted by those who have even a slight knowledge of the German language that the dialect used in the poem has staccato characteristics.
---
---
Stay Updated
Want to get the latest updates and special offers from Alfred Music?