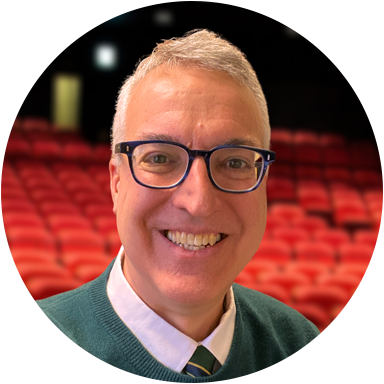 Scott Watson
He is a frequently commissioned composer with approximately 100 published pieces for band and strings at all levels, including chamber works. His music has received recognition from the American Composer's Forum, American Music Center, Phi MU Alpha Sinfonia (among others), and been performed at venues around the world, including the Academy of Music (Philadelphia), the Midwest Clinic (Chicago), and the White House (Washington, D.C.). Watson is an exclusive composer for Alfred Music, a contributor to the Sound Innovations concert band series, and an Alfred Clinician.
Watson has presented numerous workshops/clinics for music educators around the U.S. and in Australia and Canada, frequently serves as guest conductor for honor and festival bands, and is the author of the highly regarded music education text, Using Technology to Unlock Musical Creativity (©2011, Oxford University Press). To learn more, please visit scottwatsonmusic.com.
Clinic Offerings
Building Your Base: Recruitment/Retention Tips for Your Band/Orchestra Program
Drawing on more than three decades of experience in the Parkland School District (Allentown, PA), first as high school band director, then as coordinator of elementary instrumental music (comprising 900 band/strings students in 4th/5th grade), Dr. Scott Watson shares a host of effective, proven ways to maximize recruitment and retention efforts, including the role of creating a positive band culture in your building…and how to do just that!
---
Composing and Arranging for School Bands
There are many great reasons to compose and arrange for your own ensemble; no one knows your band and its abilities better than you! This session is designed to help those with an interest in writing for school bands take their music to the next level of effectiveness and professionalism while expanding the audience for their music. Topics include the art and craft of composing/arranging, the conventions of writing at various levels (elementary, intermediate, high school and beyond), criteria related to the grading system (Grade .5 through 6 scores and instrumentation, ranges, rhythms, doubling, etc.), commissions, and tips for submitting music to publishers.
---
Creativity in Band and Orchestra
The primary focus in instrumental music ensembles is RE-CREATING the music of others by playing proficiently. Nonetheless, there are compelling reasons to incorporate CREATIVE activities with these students. In this session, composer and educator Dr. Scott Watson draws on decades of experience working and sharing with students of all ages to provide tips and activities for unlocking the creativity of students in band and orchestra. Topics range from an interactive, large group activity ("The Craft of Composition") to ensemble ("Just Add Music") and individual ("Pedal Point Duet") composition projects geared at beginner-through-high school students.
---
Current Trends in Music Education Technology
In the session, we'll take a look at what's trending in music education technology, including useful and compelling hardware, apps, and pedagogy. Topics and demonstrations include accessible cloud-based apps, integrating notation apps, digital audio workstations, creating video, Blended Learning/Flipped Classroom, Project-Based Learning, favorite "free & easy" apps for music, social media for professional development, and more.
---
Dynamic Concerts: Audience and Student-Friendly Ways to Enhance Performances
This session explores ways to add special musical and extra-musical elements to your instrumental music concerts in order to increase student enjoyment and audience appreciation. Employing just one or two of these suggestions each year will help create memorable concerts, establishing your ensemble performances as anticipated events in the eyes and ears of the school community. Together with their musical achievements, presenting well-received, dynamic concerts can contribute to student musicians' pride in what they do as part of your band/strings program.
---
Enhancing the Ensemble Experience Using Composer Skype Sessions
We live in a time when much of the repertoire available for our ensembles is written by living composers, and when video teleconferencing technology is ubiquitous and attainable. This happy convergence creates a wonderful opportunity to bring composers, virtually, into our rehearsals. Virtual composer visits afford students and directors an opportunity to hear composers share about their lives and music, and to receive useful feedback that can lead to a deeper understanding and execution of the composer's music. In this session, Watson demonstrates what a virtual composer session looks like (via video and pictures from actual sessions with composers); the many benefits of doing composer video-conferences, from the perspective of director, student, composer and administrator; a model virtual composer session lesson plan, aligned with the National Core Arts Standards; and the technical logistics for setting up a composer video-conference in your rehearsal space.
---
Finding and Exploiting Patterns in Music
When we can uncover patterns in music, students can anticipate what's coming and learning that music becomes easier. Much music of lasting worth is written efficiently – with multiple patterns of organization. We should start from the premise that composers/arrangers exploit patterns deliberately? Whether it's the canonic or imitative counterpoint of Bach, the symmetrical phrasing of Mozart, the Fibonacci series embedded in note groups of Bartok, or the "rule of 3's in folk songs (aaba), patterns abound in lots of music we like. Since a big part of finding patterns involves uncovering formal structure, students (especially older ones) can integrate this awareness into better informed performances. In this session, Watson shares examples of this principle and demonstrates ways to uncover examples of patterns in your repertoire that can make teaching it both more meaningful and time efficient.
---
Fun and Games with Young Instrumentalists
You've no doubt heard the old saying, "You can attract more flies with honey than with vinegar." Likewise, sometimes you can get more out of your young students in band when you embed the learning in a game! Robert and Richard Sherman had it right in the lyrics to their song, "A Spoonful of Sugar" from the film Mary Poppins: "In every job that must be done, there is an element of fun. You find the fun and snap, the job's a game! The longer I've been at it, the more I am interested in my teaching being efficient and enjoyable. I've found using games and challenges to be one way to do both. In this session, Watson shares more than 20 "games" and "challenges" I've used with instrumental music students to push them further while having fun!
---
GarageBand Does It All!
GarageBand is a relatively intuitive, easy-to-learn app for unleashing creativity in students of all ages/ability levels, but it's also a powerful tool for accomplishing a variety of music teacher tasks. This primer/overview of the many uses for this entry-level DAW (digital audio workstation) in music education includes topics such as: recording soloists and ensembles (for reflection, evaluation, auditions), editing audio (to use in PowerPoint, post to the web), loop-based composing, MIDI file arranging, multi-track production, creating podcasts, scoring videos (music and/or SFX), teach improvisation, and more! Time-permitting, we'll also look at the difference between the desktop and the iOS (iPad) versions of the program.
---
Getting Started in Band: Tips and Trouble-Shooting Hacks for Launching Students
In this session, Dr. Scott Watson draws on more than three decades teaching beginner through high school band students to get over common hurdles encountered, especially in the first years of playing. Topics include introduction to notation, assembly and grip, producing first sounds on the instrument, pedagogical "best-practices" for teaching various concepts, games and challenges that elucidate and motivate, all using common objects (i.e. straws, markers, wine corks, pencils, music stands, and more), special warm-ups and drills, method books, and technology tools (including the new SmartMusic).
---
Getting the Most Out of Band
Drawing on more than three decades of experience in the Parkland School District (Allentown, PA), first as high school band director, then as coordinator of elementary instrumental music (comprising 900 band/strings students in 4th/5th grade), Dr. Scott Watson shares practical, effective strategies for running a K-12 instrumental music program. This session can be led in a "round table" manner, inviting participants to share their "best practices" and allowing Watson to address items of interest to any specific audience, focusing on topics such as rehearsal strategies, teaching lessons/sectionals, selecting repertoire, score preparation, classroom management/motivation, recruitment, retention, advocacy and more.
---
Sound Innovations: Developing Successful Students and Ensembles with a Complete
Sound Innovations is a thoughtfully developed, relevant and extremely useful band method. In this session you'll learn why as you discover some best practices for using Books 1 & 2, the free SIONLINE web resource, and the SI Ensemble Development Books (Young, Intermediate and Advanced Bands).
---
Sound Sight-Reading: Leading Students from "See It" to "Play It"
At its most basic level, sight-reading is authentic music literacy, and answers the question: "Can I accurately decode and execute the music before me without assistance?" Every director wants their students to be better at this. In this session, a tool kit of effective strategies for making students better readers and interpreters of music will be shared. Participants will learn many effective strategies for teaching better music reading, plus a preview of Alfred Music's revolutionary, new Sound Innovations Sound Sight-Reading method!
---
Three Game Changers for Achieving a Mature Band Sound
Playing with good phrasing and in tune are two "game changers" that set apart fine bands at any level, and developing discerning ears with your students ties it all together. While phrasing (working on longer, more musical phrasing) is a relatively straightforward concept to address, intonation can be tough for players to grasp and is an ongoing process. Teaching students to listen with discernment in band leads to better playing in these and many other areas. In this session, Watson shares some practical, effective strategies that may be implemented in your very next lesson, sectional or ensemble rehearsal to improve student proficiency that leads to noticeably more attractive, mature ensemble sound.
---
Traits of An Effective Music Teacher
Drawing on more than three decades in K-12 and higher education, Dr. Watson presents eight key areas that help in-service and pre-service music educators get a position, do it well, enjoy it, and go the distance. Tying in research, real-world examples, wisdom from great thinkers in education and elsewhere, Watson touches on topics including tenacity, professionalism, relationships, diligence, passion, creativity, gratefulness and positivity (growth mindset). This session with give new and old teachers inspiration and practical steps for improving in effectiveness, and to "go the distance" in a field marked by ever-more challenges and burnout.
---
Using Technology to Unlock Musical Creativity
It's never been easier or more fun for students to compose, improvise, arrange, and produce music-related projects than with today's technology! In this session, veteran music teacher, composer/author and music technology specialist, Dr. Scott Watson (Using Technology to Unlock Musical Creativity, ©2011, Oxford University Press) shares cool, accessible (free/easy) tools for creating music at all levels. Perfect for teachers looking for ways to move towards developing the use of technology in creative activities in their programs, or for those looking for fresh ways to use the technology tools they already have.
---
What to Play? Thoughts on Programming and Selecting Repertoire
Choosing music to place on the stands of our students in ensembles is just about the most important decision directors make. With a multitude of worthwhile pieces from an ever-expanding array of gifted composers (including those traditionally underrepresented), and the limited amount of contact time we have with our students, selecting repertoire can be daunting. In this session, Watson shares important considerations and approaches for narrowing down the vast number of pieces and focusing in on the right music for your ensemble performances.
Stay Updated
Want to get the latest updates and special offers from Alfred Music?