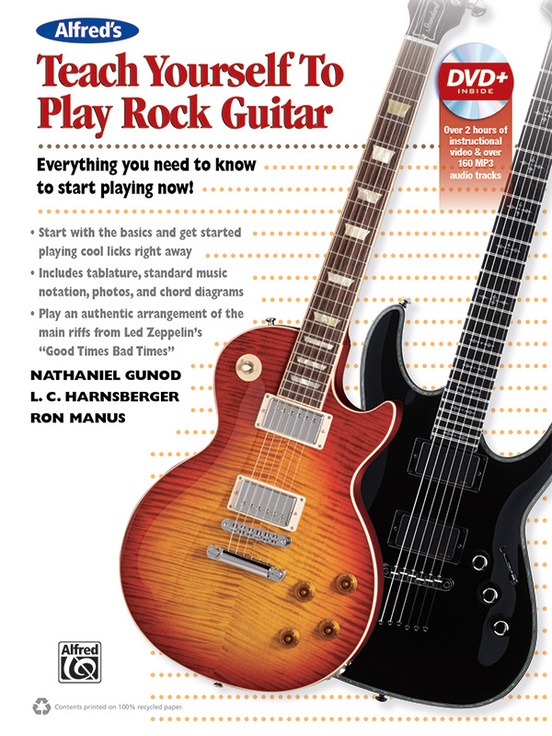 Alfred's Teach Yourself to Play Rock Guitar
Everything You Need to Know to Start Playing Now!
By Nathaniel Gunod, L. C. Harnsberger, and Ron Manus
Guitar Book & DVD
Item: 00-42010
Add to Cart
Add to List
Share
---
Description
Learn to play rock guitar and open up a brand new world of musical knowledge with this exciting method from Alfred Music. Beginners of all ages can start their journey to a lifetime of playing electric guitar. Beginning with the fundamentals, you will learn about various guitar types and the sounds they create, how to care for your own guitar, and standard musical notation and TAB. You then move right along to playing licks and melodies in the style of some of rock's greatest songs. You will learn notes, chords, power chords, scales, and songs, lesson by lesson, all while increasing your knowledge of reading and understanding standard musical notation and TAB. When you finish, you will be playing an authentic arrangement of the main riffs from Led Zeppelin's "Good Times Bad Times."

The accompanying DVD provides over 2 hours of video instruction and over 160 performance and play-along MP3 tracks, to help you understand the concepts with more ease and efficiency. Be your own teacher, and let Alfred Music be your resource every step of the way.
---
Contents
Title
The Parts of Your Guitar
The Acoustic Guitar
The Electric Guitar
Which Guitar Is Best for Me?
How to Hold Your Guitar
The Amplifier
The Right Hand
The Left Hand
How to Tune Your Guitar
Getting Acquainted with Music
Getting Acquainted with Tablature
The Sixth String E
Sixth-String Riff 1
Sixth-String Riff 2
More Riffs
Still More Riffs
Rockin' Bass Line
Silent Guitar Calisthenics 1 and 2
Sound-Off: How to Count Time
Four Kinds of Notes
Time Signatures
The Fifth String A
Jamming on 5 and 6
Two-String Rock
Easy Rock Riffs on the 5th and 6th Strings
Repeat Signs
King Louie
As I Arrive
Ferrous Guy
They Can Rock
Silent Guitar Calisthenics 3
The Fourth String D
Fourth-String Riff
1950s Rock Lick
Foggy Lake
Ladder to the Sky
Crazy Kid
Playing Two Notes Together
Blues in 3
The Third String G
Cash
Introducing the Quarter Rest
Ode to Joy
Rockabilly Sound
Power Chords
Three-Chord Progression
Down You Go
Rock Duet
Bop the Blitz
The Second String B
Classic Rock Lick
Five-String Rock
Satisfying Lick
Don't Miss the Train
Give Me a Hand, Lady
Rockin' in D
The First String E
Jamming with E, F, and G
Review
Aura Lee
The Major Scale
C Major Scale Exercise
Six-String Em Chord
Quarter-Note Slash
Em Strumming Exercise
Five-String A7 Chord
Strumming the A7 Chord
Strumming Em and A7 Chords
Minor Two-Chord Rock
Introducing High A
Rockin' in Dorian Mode
Ties
Rainforest Romp
Nice Attire
Eighth Notes
Eighth-Note Exercise
Ellis Island
Four-String D7 Chord
D7 and A7 Chord Exercise
D7 Chord with Notes
Six-String E Chord
Introducing the Eighth-Note Slash
Eighth-Note Slash Exercise
Strumming Exercise with E Chord
Five-String A Chord
Minor and Major
Vacate the Sky
Doo Dah, Poo Bah
Eleven Classic Rock Strumming Patterns
Rough Evening
Always Been Crazy
Keep It to Yourself
Sharps, Flats, and Naturals
The Chromatic Scale
Chromatic Rock
Bluesy Accidentals
Wet Duet
Signs of Silence
Take a Rest
Ugly Times
Stop-Time Bass Line
Playing Two Notes Together: Blues Patterns
E Blues Boogie
A Blues Boogie
Move Up the Neck on the 6th String
Practice A, B, and C
Two Positions on the 6th String
Move Up the Neck on the 5th String
Practice D, E, and F
Two Positions on the 5th String
Move Up the Neck on the 4th String
Two Positions on the 4th String
Move Up the Neck on the 3rd String
Two Positions on the 3rd String
Classic Rock Lick with 5s and 7s
More on Power Chords
Power Chords Are Moveable
Power Chord Rock
More Power Chord Rock
Six-String G Chord
Chords in Standard Notation
Chords in Notes
Rockin' the Bach
Party, Party
Rock and Blues Licks and Tricks
Rock Lick 1
Rock Lick 1 with a Bend
Rock Lick 2
The E Minor Pentatonic Scale
Pentatonic Lick 1
Pentatonic Lick 2
1950s Blues-Rock Tune
A Minor Pentatonic Scale
A Minor Pentatonic Call and Response
Incomplete Measures or Pickups
House of the Rising Sun
12-Bar Blues Duet
Good Times Bad Times (Intro)
Guitar Fingerboard Chart
---
Stay Updated
Want to get the latest updates and special offers from Alfred Music?