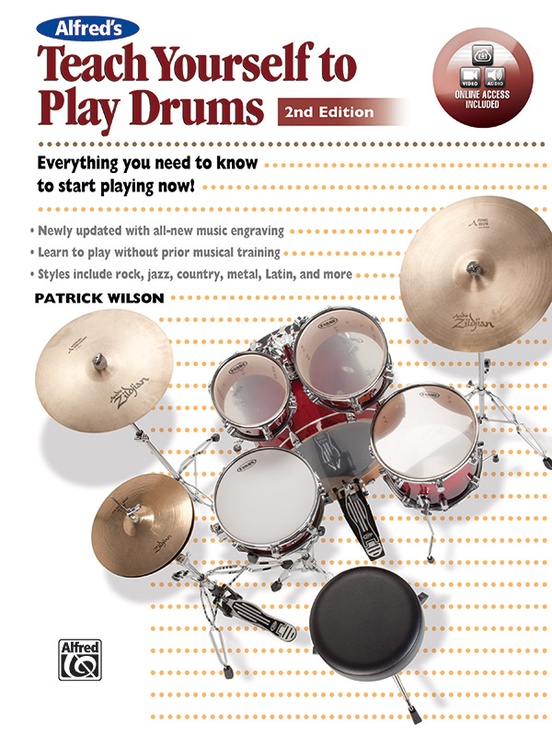 Alfred's Teach Yourself to Play Drums (2nd Edition)
Everything You Need to Know to Start Playing Now!
By Patrick Wilson
Drumset Book & Online Video/Audio
Item: 00-40951
Add to Cart
Add to List
Share
---
Description
Learn to play the drums and open up a brand new world of musical knowledge with a newly revised edition of this exciting method from Alfred Music. This edition features a video presented by educator/performer Johnny O'Reilly, that correlates directly with the book. Beginners of all ages can start their journey to a lifetime of musical enjoyment. Beginning with the fundamentals, you will learn about various drum types and the sounds they create, playing basics, proper drumstick grips, and getting acquainted with standard drum notation. You will then move right along to playing different lines with different tempos, rhythms, and grooves---all while continuing to increase your knowledge of reading and understanding standard musical and drum notation. You will learn to play beats and fills in an array of musical styles, including rock, country, jazz, and Latin. Upon completion of this book, you will be able to play in a band and read standard drum music.
The book features the following helpful resources for reference during and after your lessons:
* Technique builders
* Daily workouts to improve your playing
* Practice tips
* Hints on purchasing equipment, tuning and sound modification, drumset maintenance
* Plus much more.
---
Contents
Title
Part I: Getting Started
A Brief History of the Drums
What to Play (Selecting Your Instruments)
How-to-Play Basics
Using Your Grip--The Wrist
Using Your Grip--The Fingers
Technique Builder #1: Introduction to the Single-Stroke Roll
Play Now!
Your First Experiments
Learning from the Book
How to Read Music
Mini Music Lesson: Symbols for Sounds--Notes, Symbols for Silence--Rests
The Framework
Reading Your First Lines of Music
The Lines & Spaces--Where Instruments Are Indicated
Using Your Feet
Where to Play
Part II: Learning the Basics
Mini Music Lesson: The Pace of Music--Tempo
Get into the Groove
Rockin', Reelin', Readin' and Repeatin'
Mini Music Lesson: The Repeat Sign
Mixin' It Up
It Takes Two
Stick to It!
Technique Builder #2
Crazy Eighths
Mini Music Lesson: Flags and Beams
More Eighths
Look Ma, No Hands
Keeping Time
Mini Music Lesson: Phrases
Easy Does It
Mini Music Lesson: One-Bar Repeat Sign
Technique Builder #3: Introduction to the Double-Stroke Roll
Three's Company
Mini Music Lesson: Two-Bar Repeat Sign
Fill In the Blanks
Part III: More Basics
Note & Rest Review
Sweet Sixteenths
Mini Music Lesson: Flags and Beams
More Sixteenths
Dotted Rhythms
Mini Music Lesson: Dotted Rhythms--Waking Up the Music
Digging In!
Hi-Hat Technique
Rolls
Rolllin' Over
Technique Builder #4: Introduction to the Multiple-Bounce Roll
Triplets
More Triplets
Mini Music Lesson: Pick-Ups
Technique Builder #5
Mini Music Lesson: First and Second Endings
New Meters
Basic Beats Using New Meters
Mini Music Lesson: Multiple Dynamics
Special Techniques
Fills Using Special Techniques
"Help!"
Part IV: Playing Beats & Fills
Practicing This Section
Rock
Early
Hard/Metal
Disco/Dance
Reggae (Ska)
Funk
Shuffle
Sitting In: Early ('60s); Metal; Reggae; Funk
Country
Bluegrass; Early
Waltz; Shuffle (Rock-a-Billy)
Up Tempo (Fiddle Tunes); Rock; "Train" Rhythm
Sitting In: Waltz; "Train" Rhythm; Rock
Jazz
Up Tempo
Blues; Dixieland
Ballads
Straight Time/Swing
Shuffle
Waltz
Sitting In: Dixieland; Ballad; Swing & Shuffle; Waltz
Latin
Samba; Bossa Nova; Calypso
Cha Cha; Tango; Mambo
Rumba (Bolero); Beguine
Sitting In: Bossa Nova; Calypso; Cha Cha, Tango & Rumba
Special Requests
Polka; Waltz; Mexican Hat Dance; Charleston
Cancan; Hora; Irish Jig; Two-Step; Bunny Hop/ "Hokie-Pokie"
Part V: Odds & Ends
Keeping Your Equipment in Shape
Replacing a Drumhead
Tuning, Drumheads
Being Your Own Teacher
Where to Go from Here
Other Useful Alfred Drumset & Percussion Publications
---
Additional Information
| | |
| --- | --- |
| Series: | Teach Yourself Series |
| Author: | Patrick Wilson |
| Instrument: | Drumset |
| Format: | Book & Online Video/Audio |
| Page Count: | 92 |
| Item Number: | 00-40951 |
| ISBN 10: | 0-7390-9574-9 |
| ISBN 13: | 978-0-7390-9574-4 |
| UPC: | 038081459547 |
---
Stay Updated
Want to get the latest updates and special offers from Alfred Music?