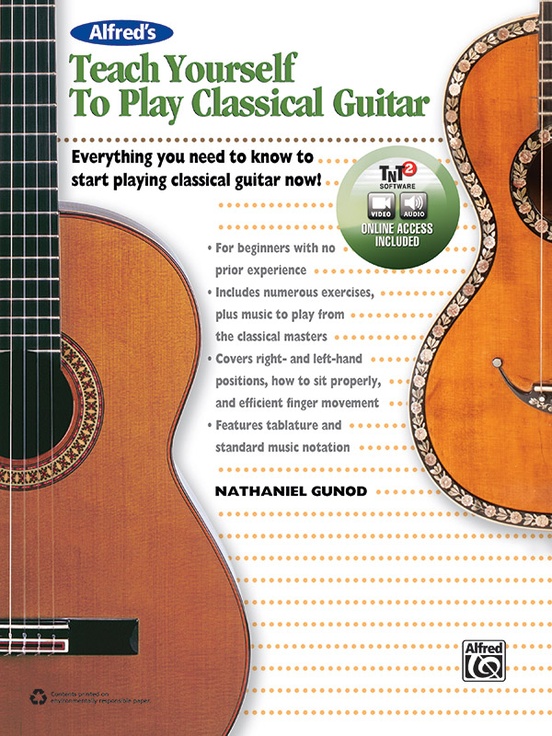 Alfred's Teach Yourself to Play Classical Guitar
Everything You Need to Know to Start Playing Classical Guitar Now!
By Nathaniel Gunod
Guitar Book & Online Video/Audio/Software
Level: Beginner
Item: 00-42697
This item is temporarily out of stock
Notify Me When Available Add to List
Share
---
Description
Learn to play classical guitar and open up a brand new world of musical knowledge with this exciting method from Alfred Music. Beginners of all ages with no prior experience can start their journey to a lifetime of musical enjoyment. Alfred's Teach Yourself to Play Classical Guitar begins with the fundamentals of the classical guitar. You will start by learning about parts of the guitar, how to hold and tune it, caring for your instrument, and standard music notation and TAB. You will then move right along to playing different notes, scales, and great classical pieces. Important techniques are taught such as the free and rest strokes, right- and left-hand positions, sitting properly, efficient finger movement, and more. The video includes lessons and performances for everything in the book, and also includes the TNT 2 audio player that lets you adjust the tempo, and isolate parts. The recording features audio performances of every exercise and song. The video and audio feature internationally renowned classical guitarist and educator Martha Masters. Upon completion of the book, you will be able to read music and play beautiful classical pieces by some of the great classical masters, including Bach, Vivaldi, Mozart, and Scott Joplin! Be your own teacher, and let Alfred Music be your resource every step of the way.
---
Contents
Title
Introduction
Parts of the Guitar
The Classical Guitarist's Tool Kit
Tuning the Guitar
The Hands
Left-Handed Players
Fingernails
Seating Position
The Guitar Fingerboard
Mini Guitar Lesson: Half Steps and Whole Steps
Reading Music: Pitch
Notes
The Staff
Clefs
Reading Music-Time
Note Durations
Rests
Measures
Time Signatures
Basic Rhythms
Getting Acquainted with Tablature
Other Notation
Neck Diagrams
Start Making Music!
Right-Hand Position
Mini Guitar Lesson: Summary of the Right-Hand Position
Basic Finger Position
The Thumb (P) Free Stroke (Tirando)
Introducing Low A and Low E (The Open 5th and 6th Strings)
Left-Hand Position
Introducing Low B and Low C on the 5th String
Introducing Low F and Low G on the 6th String
Introducing Low D, Middle E, and Middle F on the 4th String
How to Practice
Pieces on the 4th and 5th Strings
Variation on a Melody by Fernando Sor
A Melody from Canarios, Sanz
Pieces on the 6th, 5th, and 4th Strings
An English Volt
Greensleeves
Mini Music Lesson: Eighth Note Review
Excerpt from Adagio, Opus 15 (Duet), Giuliani
Free Stroke (Tirando) with I and M
Two-Note Chords
Introducing Notes on the 3rd, 2nd, and 1st Strings
Crossing Strings
Aria (Duet)
Introducing Ties
Introducing Dotted Notes
Mini Music Lesson: Time
Introducing High F and G on the 1st String
Introducing Accidentals (Sharps, Flats, and Naturals )
Mini Music Lesson: Accidental Signs
Theme from the Fugue in A Minor, Bach
Theme from Lagrima, Tarrega
Theme from Forlorn Hope Fancy, Dowland
Alternating Between Thumb and Fingers Using Free Strokes
Pieces with Thumb and Two-Note Chord Alternations
Country Dance No. 1
Homage to Villa-Lobos
In the Style of Leo Brouwer
Incomplete Measures and Pickup Notes
Grazioso (Duet), Giuliani
Excerpt from Terpsichore (Duet), Ferrer
Shifting up the Neck
Mini Guitar Lesson: Fret Markers
Mini Guitar Lesson: Positions
Spanish Romance, Traditional
Theme from FUGA, BWV 1000, Bach
Alternating P with Individual Finger Strokes
Mini Music Lesson: Introducing Sixteenth Notes
Theme from Asturias (Leyenda), Albéniz
Theme from Malagueña, Traditional Flamenco
Introducing Rest Stroke (Apoyando)
The Position
The Stroke
Rest Stroke Alternation
Alternating P with Rest Strokes
The Major Scale
Good vs. Bad Crosses
Playing Major Scales on One String: Shifting
Introducing High A, B, C, D, and E on the 1st String
Pieces Using Rest Stroke and P
Sakura, Traditional Japanese Melody
Introducing the Dotted Eighth, Sixteenth Rhythm
Variation on a Minuet by José Ferrer
Chords and Arpeggios
Arpeggios
Arpeggio Studies from Guiliani
120 Right-Hand Studies
Introducing Triplets
Introducing Dynamics
Three-Note Chords with I-M-A
The P-I-M-A and P-A-M-I Arpeggios
More Arpeggio Studies
Introducing Tempo Signs
Supplemental Pieces
Variation on a Study by Dionisio Aguado
Key Signatures
Largo from the Concerto in D Major, Vivaldi
Mini Music Lesson: More Dynamic Signs
Lullaby, Brahms
Country Dance, Carulli
Minuet in G, Bach
Mini Guitar Lesson: Three- and Four-Note Chords
Mini Music Lesson: Introducing the Sixteenth Rest
Humoresque, Dvorak
Eine Kleine Nachtmusik: Romanze, Mozart
Drop D and G Tuning
Excerpt from Maple Leaf Rag, Joplin
Piano Concerto No. 3, Movement 1 (Theme), Beethoven
---
Additional Information
| | |
| --- | --- |
| Series: | Teach Yourself Series |
| Author: | Nathaniel Gunod |
| Instrument: | Guitar |
| Format: | Book & Online Video/Audio/Software |
| Page Count: | 80 |
| Item Number: | 00-42697 |
| ISBN 10: | 1-4706-1506-1 |
| ISBN 13: | 978-1-4706-1506-2 |
| UPC: | 038081481906 |
Stay Updated
Want to get the latest updates and special offers from Alfred Music?