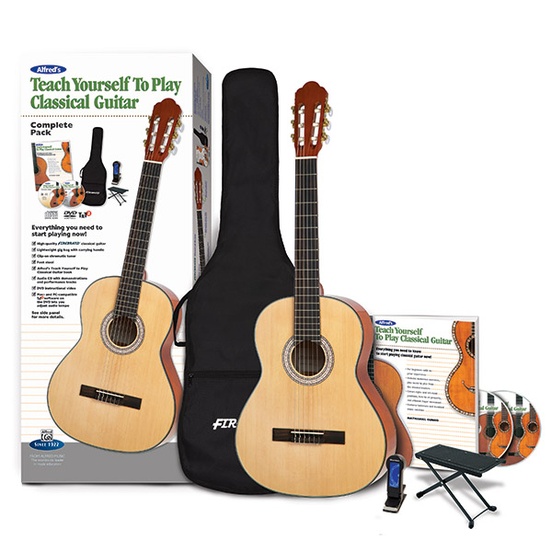 Alfred's Teach Yourself to Play Classical Guitar, Complete Pack
Everything You Need to Know to Start Playing Now!
By Nathaniel Gunod
Guitar Book, CD, DVD, Guitar & Accessories Starter Pack
Level: Beginner
Item: 00-42834
This item is permanently out of print
Share
---
Description
From Alfred Music, the worldwide leader in music education products since 1922, comes Alfred's Teach Yourself to Play Classical Guitar Complete Starter Pack! This complete starter pack includes a high-quality full-size Firebrand™ nylon-string acoustic guitar, deluxe accessories including a custom-fit gig bag carrying case, clip-on portable tuner with batteries included, a foot stool, and Alfred's Teach Yourself to Play Classical Guitar (Book, CD, and DVD with TNT 2 software for Mac and PC).

High-quality Firebrand™ full-size nylon-string acoustic guitar features:
* Spruce top with mahogany back and sides for a full, rich tone
* Die-cast, chrome tuning machines
* Nylon strings
* Mahogany neck with rosewood fretboard
---
Contents
Title
Introduction
Parts of the Guitar
The Classical Guitarist's Tool Kit
Tuning the Guitar
The Hands
Left-Handed Players
Fingernails
Seating Position
The Guitar Fingerboard
Mini Guitar Lesson: Half Steps and Whole Steps
Reading Music: Pitch
Notes
The Staff
Clefs
Reading Music-Time
Note Durations
Rests
Measures
Time Signatures
Basic Rhythms
Getting Acquainted with Tablature
Other Notation
Neck Diagrams
Start Making Music!
Right-Hand Position
Mini Guitar Lesson: Summary of the Right-Hand Position
Basic Finger Position
The Thumb (P) Free Stroke (Tirando)
Introducing Low A and Low E (The Open 5th and 6th Strings)
Left-Hand Position
Introducing Low B and Low C on the 5th String
Introducing Low F and Low G on the 6th String
Introducing Low D, Middle E, and Middle F on the 4th String
How to Practice
Pieces on the 4th and 5th Strings
Variation on a Melody by Fernando Sor
A Melody from Canarios, Sanz
Pieces on the 6th, 5th, and 4th Strings
An English Volt
Greensleeves
Mini Music Lesson: Eighth Note Review
Excerpt from Adagio, Opus 15 (Duet), Giuliani
Free Stroke (Tirando) with I and M
Two-Note Chords
Introducing Notes on the 3rd, 2nd, and 1st Strings
Crossing Strings
Aria (Duet)
Introducing Ties
Introducing Dotted Notes
Mini Music Lesson: Time
Introducing High F and G on the 1st String
Introducing Accidentals (Sharps, Flats, and Naturals )
Mini Music Lesson: Accidental Signs
Theme from the Fugue in A Minor, Bach
Theme from Lagrima, Tarrega
Theme from Forlorn Hope Fancy, Dowland
Alternating Between Thumb and Fingers Using Free Strokes
Pieces with Thumb and Two-Note Chord Alternations
Country Dance No. 1
Homage to Villa-Lobos
In the Style of Leo Brouwer
Incomplete Measures and Pickup Notes
Grazioso (Duet), Giuliani
Excerpt from Terpsichore (Duet), Ferrer
Shifting up the Neck
Mini Guitar Lesson: Fret Markers
Mini Guitar Lesson: Positions
Spanish Romance, Traditional
Theme from FUGA, BWV 1000, Bach
Alternating P with Individual Finger Strokes
Mini Music Lesson: Introducing Sixteenth Notes
Theme from Asturias (Leyenda), Albéniz
Theme from Malagueña, Traditional Flamenco
Introducing Rest Stroke (Apoyando)
The Position
The Stroke
Rest Stroke Alternation
Alternating P with Rest Strokes
The Major Scale
Good Vs. Bad Crosses
Playing Major Scales on One String: Shifting
Introducing High A, B, C, D, and E on the 1st String
Pieces Using Rest Stroke and P
Sakura, Traditional Japanese Melody
Introducing the Dotted Eighth, Sixteenth Rhythm
Variation on a Minuet by José Ferrer
Chords and Arpeggios
Arpeggios
Arpeggio Studies from Guiliani
120 Right-Hand Studies
Introducing Triplets
Introducing Dynamics
Three-Note Chords with I-M-A
The P-I-M-A and P-A-M-I Arpeggios
More Arpeggio Studies
Introducing Tempo Signs
Supplemental Pieces
Variation on a Study by Dionisio Aguado
Key Signatures
Largo from the Concerto in D Major, Vivaldi
Mini Music Lesson: More Dynamic Signs
Lullaby, Brahms
Country Dance, Carulli
Minuet in G, Bach
Mini Guitar Lesson: Three- and Four-Note Chords
Mini Music Lesson: Introducing the Sixteenth Rest
Humoresque, Dvorák
Eine Kleine Nachtmusik: Romanze, Mozart
Drop D and G Tuning
Excerpt from Maple Leaf Rag, Joplin
Piano Concerto No. 3, Movement 1 (Theme), Beethoven
---
Additional Information
| | |
| --- | --- |
| Series: | Teach Yourself Series |
| Author: | Nathaniel Gunod |
| Instrument: | Guitar |
| Version: | Book, CD, DVD, Guitar & Accessories |
| Format: | Starter Pack |
| Item Number: | 00-42834 |
| ISBN 10: | 1-4706-1636-X |
| ISBN 13: | 978-1-4706-1636-6 |
| UPC: | 038081485249 |
---
Stay Updated
Want to get the latest updates and special offers from Alfred Music?