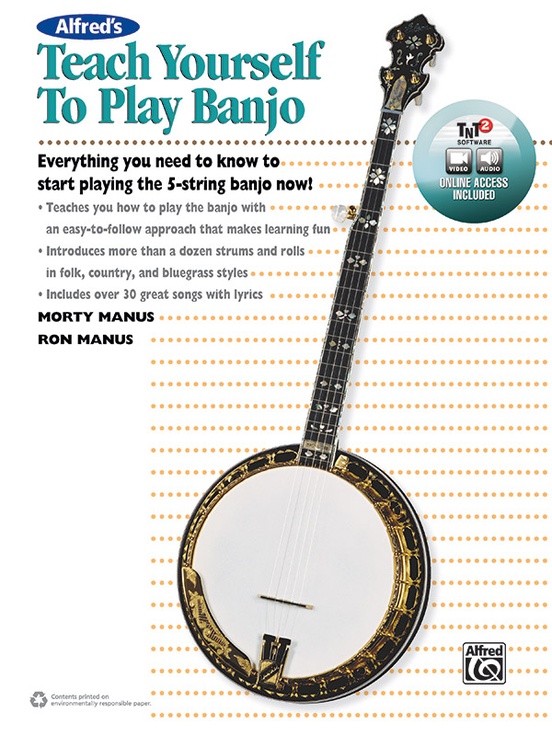 Alfred's Teach Yourself to Play Banjo
Everything You Need to Know to Start Playing the 5-String Banjo Now!
By Morty Manus and Ron Manus
Banjo Book & Online Video/Audio/Software
Item: 00-42730
Add to Cart
Add to List
Share
---
Description
Learn to play banjo and open up a brand new world of musical knowledge with this exciting method from Alfred Music. Beginners of all ages can start their journey to a lifetime of musical enjoyment. Alfred's Teach Yourself to Play Banjo teaches you to play 5-string banjo even if you've never held the instrument before. The book starts with the fundamentals such as the history of the banjo, its components, how to hold and tune it, caring for your very own instrument, and how to read standard musical notation. You will then move right along to playing different chords, strums, and songs, lesson by lesson, all while continuing to increase your knowledge of reading banjo music. You will learn important banjo techniques such as the hammer-on, pull-off, and more. There are also fingering charts and a dictionary of chords in G and C tunings.

This best-selling book is now available with online media, featuring audio performances of every exercise and song, video lessons and performances for everything in the book, and TNT 2 software that lets you adjust the tempo and pitch as well as isolate parts. Upon completion of the book, you will be able to play your favorite songs on the banjo, read music, play more than a dozen different strums and perform with a musical group.

Be your own teacher, and let Alfred Music be your resource every step of the way.
---
Contents
Title
Getting Started
A Short History of the Banjo
The Five-String Banjo
The Hands
Picks
Tightening the Head
Holding the Banjo
Tuning Your Banjo
Tuning to a Piano or Other Keyboard
Tuning to a Pitch Pipe
Tuning to a Tuning Fork
Tuning by Ear
Using an Electronic Tuner
Caring for your Banjo
Buying a Used Banjo
Starting to Play Chords
Playing the G Chord
Playing the D7 Chord
Getting Acquainted with Music
Mini Music Lesson: Ties
Down in the Valley
Mini Music Lesson: Eighth Notes & Rests
Go Tell Aunt Rhody
Mini Music Lesson: Pickup Measure, Dotted Quarter Note
Cockles and Mussels
Clementine
Strum No. 1
Mini Music Lesson: D.C. al Fine
Tom Dooley
Strum No. 2
Old Paint
The C Major Chord
When the Saints Go Marching In
On Top of Old Smokey
Oh! Susanna
Strum No. 3
Strum No. 4
Worried Man Blues
The G7 Chord
Jesse James
She'll Be Comin' Round the Mountain
Red River Valley
Strum No. 5
Skip to My Lou
Strum No. 5 (continued)
Hand Me Down My Walkin' Cane
This Land Is Your Land
Mini Music Lesson: The Arpeggio
Strum No. 6
The A7 Chord
Aura Lea
Strum No. 7
The Cowboy's Dream
Strum No. 8
New River Train
Strum No. 9
Daisy Bell (A Bicycle Built for Two)
Melody Playing
Goodnight Ladies
My Home's Across the Smoky Mountains
Lolly Too Dum
Mini Music Lesson: Hammering-On
Come and Go with Me
Mini Music Lesson: Pulling-Off
Cotton Eyed Joe
Strum No. 8b
The Old Gray Mare
Bluegrass
Bluegrass Roll No. 1
Black Eyed Susie
Bluegrass Roll No. 1a
Old Joe Clark
Bluegrass Roll No. 2
Little Maggie
Mini Music Lesson: C Tuning
The Wabash Cannonball
Home on the Range
Strum No. 10
Mini Music Lesson: Transposition
The Capo
What to Do About the 5th String
Chords in G Tuning
Chords in C Tuning
Fingering Charts
---
Additional Information
| | |
| --- | --- |
| Series: | Teach Yourself Series |
| Author: | Morty Manus, Ron Manus |
| Instrument: | Banjo |
| Format: | Book & Online Video/Audio/Software |
| Page Count: | 64 |
| Item Number: | 00-42730 |
| ISBN 10: | 1-4706-1531-2 |
| ISBN 13: | 978-1-4706-1531-4 |
| UPC: | 038081483061 |
---
Stay Updated
Want to get the latest updates and special offers from Alfred Music?