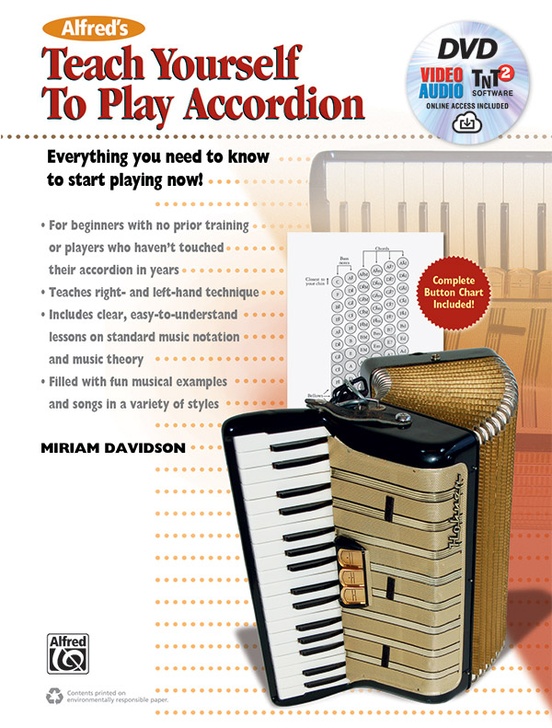 Alfred's Teach Yourself to Play Accordion
Everything You Need to Know to Start Playing Now!
By Miriam Davidson
Accordion Book, DVD & Online Video/Audio/Software
Item: 00-44736
Add to Cart
Add to List
Share
---
Description
Learn to play the accordion and open up a brand new world of musical knowledge with this exciting method from Alfred Music. Beginners of all ages can start their journey to a lifetime of musical enjoyment. Beginning with the fundamentals, you will learn about the parts of the accordion, buying an accordion, preparing the instrument for use, and getting acquainted with standard musical notation. You will then learn to use your left and right hands in the proper ways, playing different notes, chords, and songs, all while continuing to increase your knowledge of reading and understanding standard musical notation. You will learn to play in an array of musical styles, including folk songs, Waltzes, Bluegrass, Polka, and more. You will also learn how to play with a group of other musicians. Upon completion of the book, you will be able to play the accordion in a variety of musical styles, read and understand music, improvise, and be ready to play in a band. Included is a DVD that contains video lessons, MP3s, and TNT 2 software for the most effective practice, plus codes to access all of the corresponding media online for streaming or downloading.

The book features the following resources for reference during and after your lessons:
* Complete button reference chart
* Informative section on MIDI accordions
* Practice tips
* An explanation on basic maintenance and repair

The accompanying video provides a helpful reference for play-along and practice.

The included TNT 2 software allows you to isolate the audio tracks, transpose, loop, and slow down or speed up the audio for the most effective practice.

Be your own teacher, and let Alfred Music be your resource every step of the way.
---
Contents
Title
About the Author
Introduction
PART 1---GETTING STARTED
The "Squeezebox": A Brief History
Parts of the Accordion
A Look Inside
The Bellows
Buying an Accordion
Adjusting the Straps
Practicing Tips
Standard Music Notation
Musical Alphabet, Clef and Staff
Lines and Spaces
Notes
Ledger Lines
Beats, Note and Rest Values
Bar Lines and Measures
Time Signatures
Rhythms and Counting
PART 2---PLAYING THE ACCORDION
The Right Hand
Notes in C Position
D Position
E Position
F Position
Some Basic Music Theory
The Major Scale
Keys and Key Signatures
Movable Hand Positions
Shifting the Right Hand
The Left Hand
Left-Hand Position
Button Chart, Note and Row Identification
Guide Button C
Bass Note C
Chords
C Major Chord Button
Types of Chords
Diatonic Harmony
Combining Bass and Chord Buttons
Combining Left and Right Hands
From Ode to Joy
Alternating Bass
Ode to Joy
Ode to Joy (Key of F)
Before You Play
Stretching
Right-Hand Warm-Ups
PART 3---STYLES FROM HOME AND AROUND THE WORLD
Putting It All Together
Children's Folk Song
Twinkle, Twinkle, Little Star
The Waltz
Minuet in G
Bluegrass or Old-Time
Angeline the Baker
Musette
Playing Minor Chords
Sad Café---1st Accordion
Sad Café---2nd Accordion
The Tango
Sophia's Secret Tango
Conjunto
Tejas
The Polka
Dennis Murphy's Polka
Zydeco and Cajun
Zydeco Romp
Cajun 2-Step
The Irish Tradition
Air
Hornpipe
Reel
The Counter Bass
Embellishments
Air Alone
Air Alone (with ornaments)
Maggie's Hornpipe
Maggie's Hornpipe (with ornaments)
PART 4---THE WELL-ROUNDED SIDE PERSON: PLAYING WITH A GROUP
7th Chords
The Blues
The 12-Bar Blues Progression
Improvising
Swing Eighths
Da Blues
Rock 'n' Roll
Squeezebox Rox
Swing
The Swingbox Comps
Jazz
The Circle of 5ths
Tin Pan Squeezebox
Country and Western
A Cry in Your Beer Country Tune
Latin American
The Clave Rhythm
The Montuno
PART 5---APPENDIX
Playing with the Band
Amplifying Your Instrument
MIDI Accordions
Digital Accordions
Reed Settings---Accordion Voices and Registers
Tunings
Types of Accordions
Sizing an Accordion
The Care and Feeding of Your Free-Reed Machine
Do It Yourself Repair
Self-Maintenance
Great Musicians, Bands and Recordings
Resources
A Note From the Author
Bass and Chord Button Chart
---
Additional Information
| | |
| --- | --- |
| Series: | Teach Yourself Series |
| Author: | Miriam Davidson |
| Instrument: | Accordion |
| Format: | Book, DVD & Online Video/Audio/Software |
| Page Count: | 96 |
| Item Number: | 00-44736 |
| ISBN 10: | 1-4706-2763-9 |
| ISBN 13: | 978-1-4706-2763-8 |
| UPC: | 038081508504 |
---
Stay Updated
Want to get the latest updates and special offers from Alfred Music?