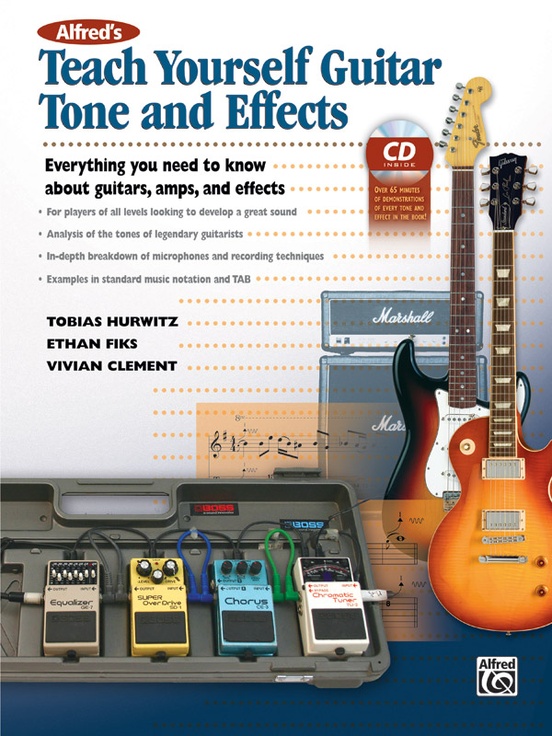 Alfred's Teach Yourself Guitar Tone and Effects
Everything You Need to Know About Guitars, Amps, and Effects
By Tobias Hurwitz, Ethan Fiks, and Vivian Clement
Guitar Book & CD
Item: 00-39392
Add to Cart
Add to List
Share
---
Description
This book & CD package features clear instruction on how to achieve the tones and effects of your favorite guitarists including an in-depth breakdown of effects pedals and processors, sample licks (in the style of Tom Morello, Joe Satriani, Stevie Ray Vaughan, Michael Angelo Batio, and others), ways to create unusual sounds, ways to replicate sounds of other instruments, home studio basics, plus it covers the various types of guitars, amps, speakers, and cabinets. The included CD demonstrates all of the examples and sounds.

Upon completion of this book, you'll be able to attain virtually any tone you're looking for (whether playing live or recording in a studio), simulate the sounds of famous guitarists past and present, and create a variety of special effects that will blow your audiences away.
---
Contents
Title
ABOUT THE AUTHORS
INTRODUCTION
CHAPTER 1 -- THE BASICS
The Electric Guitar
The Science of Sound
About Block Diagrams
About the Order of Effects
Tone: The Big Picture
CHAPTER 2 -- WHERE IT ALL STARTS
Stratocasters and Strat-Style Guitars
The Gibson Les Paul Archtops
More Guitars
Pickups
Amplification
The Combo Amp
The Stack
The Rack System
Modeling Amps
Boutique Amps
CHAPTER 3 -- SPEAKERS AND CABINETS
Cabinets
Cones
Open Back or Closed Back?
CHAPTER 4 -- PEDALS, PROCESSORS, AND WHAT THEY DO
Fuzz
Distortion
Overdrive
Reverb
Delay/Echo
Flanger
Chorus
Wah
Auto-Wah/Envelope Follower
Phase Shifter
Noise Gates
Hush-2
Compressors and Limiters
Equalizers
Ring Modulator
Talk Box
Octaver/Harmonizer
Tremolo/Vibrato
Artificial Loads
E-Bow
Exciter/Enhancer
Guitar Synthesizer
Multi-Effects
Licks Used in This Chapter
CHAPTER 5 -- THE SOUNDS OF LEGENDARY PLAYERS
The Carlos Santana Sound
The Kurt Cobain Sound
The Joe Satriani Sound
The Jimi Hendrix Sound
The Eddie Van Halen Sound
The Stevie Ray Vaughan Sound
The Randy Rhoads Sound
The Metallica Sound
The Boston Sound
The Michael Angelo Batio Sound
The Tom Morello Sound
The John Frusciante Sound
CHAPTER 6 -- MORE ON EFFECTS
Distortion
Chorus
Flanger
Delay
Reverb
Compressor
Ring Modulator
Pitch Shifter
Wrap Up
CHAPTER 7 -- EVERYDAY SOUNDS
Creaky Door
Big Bell
Jet Take-Off
Coyote Falls Off Cliff
Speedster
CHAPTER 8 -- SYNTHETIC SOUNDS
Feedback
Growls
Squeals
CHAPTER 9 -- THE ANIMAL KINGDOM
Talking Cat
Whale
Elephant's Roar
Seagulls
CHAPTER 10 -- OTHER INSTRUMENTS
Cellos (Or Other Strings)
String Thing in A
A Simple Oscillator
Bonus Effect: Siren
Electronic Kick/Snare
Organ
(Slap) Bass
Basic Fake Bass
Chimes
DJ Record Scratch
Synthesizer Pad
Steel Drums (Pans)
Panned Out
Sitar
Bagpipes
Amazing Grace
CHAPTER 11 -- ARTISTS TO CHECK OUT
Spotlight on Vinnie Bell
Spotlight on Adrian Belew
Other Artists Not to Miss
CHAPTER 12 -- CREATING YOUR OWN HOME STUDIO
Setting Up Your Studio
Direct Recording
CHAPTER 13 -- RECORDING YOUR INSTRUMENTS
Microphones 101
Mic Techniques
How to Mic Amps for Electric Guitars
Conclusion
---
---
Stay Updated
Want to get the latest updates and special offers from Alfred Music?