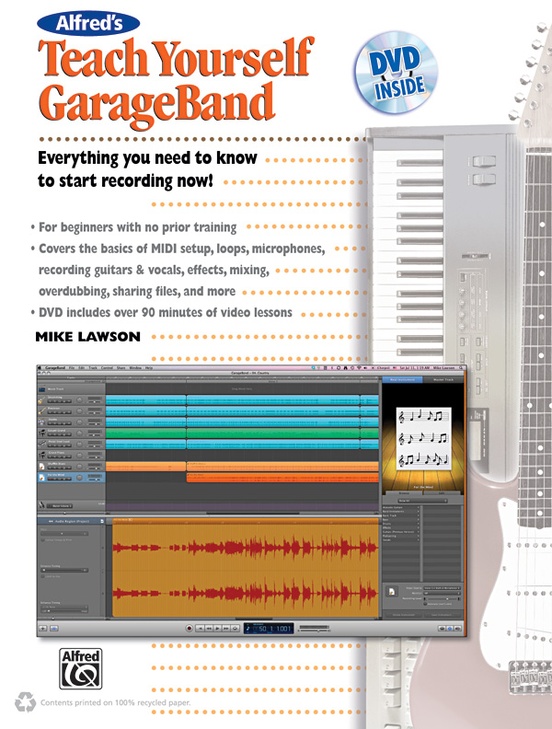 Alfred's Teach Yourself GarageBand
By Mike Lawson
Pro Audio Textbook & DVD
Item: 00-34367
Available Digitally
Share
---
Description
This book and DVD combo will show you everything you need to know to get started with GarageBand today! Whether you're a beginner with no training, or you have some knowledge of GarageBand and are in need of a refresher course, Alfred's Teach Yourself GarageBand is the perfect resource. You'll learn how to optimize your Mac, work with MIDI, choose an audio/MIDI interface, select microphones, use loops, edit audio, and create a great sounding final mix. When you're finished with this course, you'll be able to record, edit, mix, and send your songs out for the world to hear via the web or on CD. The provided DVD contains over 100 minutes of video and clearly demonstrates the essential features of GarageBand with an easy-to-understand approach.

"Best in Show" Award at Winter NAMM 2012 presented by Music Inc. magazine.
---
Contents
Title
INTRODUCTION
CHAPTER 1: GETTING TO KNOW YOUR MAC
System Requirements
*Mini GB lesson: Apple's iLife System Requirements
CHAPTER 2: MIDI AND GARAGEBAND
Software Instruments in GarageBand
CHAPTER 3: AUDIO DEVICES AND GARAGEBAND
Choosing the Right Audio Device, and a Word About USB v1.1 vs. USB v2
What Is Different about USB v1, USB 2 and Firewire
*Mini GB lesson: Summing Up USB/Firewire Choices
Audio MIDI Setup in MAC OS X
I Can't See My Audio Device!
*Mini GB lesson: Likely Reasons You Can't See Your Audio Device
CHAPTER 4: CHOOSING AND USING MICROPHONES
*Mini GB lesson: Three Types of Microphones
Condenser Microphones
Powering Up the Microphone
Dynamic Microphones
Ribbon Microphones
Why Choose the Condenser Microphone?
USB Microphones
Choosing an Audio Interface
CHAPTER 5: SETTING UP YOUR FIRST SESSION IN GARAGEBAND
Listen While You Work
*Mini GB lesson: The Monitor Drop-Down Menu
Set Up the MIDI Connection
*Mini GB lesson: If Your MIDI Isn't Working
Connect Your Audio Device
Buffer Sizes for Recording and Playback
Speakers, Headphones, and Listening to Your Recordings
Metronome and Cycle Recording
Audio Preview
Advanced Settings: Maximum Numbers
Auto Normalize
Resolution Settings
My Info
On to Making Music
CHAPTER 6: ADDING TRACKS AND TESTING AUDIO/MIDI INPUTS
*Mini GB lesson: Adding an Audio Track
Name It Now!
The Five Buttons on Each Track Are…
Adjusting Track Settings
Recording Some Test MIDI Data
Record Some Test Audio
You Did It!
*Mini GB lesson: 16 Things About GarageBand You Now Know
CHAPTER 7: IMPORTING AUDIO LOOPS INTO GARAGEBAND
CHAPTER 8: WORKING WITH MIDI LOOPS IN GARAGEBAND
CHAPTER 9: RECORDING YOUR VOCALS
Recording Levels
Cycle and Recording Overdubbing
CHAPTER 10: RECORDING ELECTRIC GUITARS AND BASS
Finding Your Tone in GarageBand
CHAPTER 11: ARRANGING YOUR SONG AND USING EFFECTS
Effects for Your Tracks
CHAPTER 12: TIPS FOR MIXING IT DOWN!
Automation!
CHAPTER 13: SHARE IT WITH THE WORLD!
Share and Share Alike
FINAL TAKE
ABOUT THE AUTHOR
INDEX
---
Additional Information
| | |
| --- | --- |
| Series: | Teach Yourself Series |
| Author: | Mike Lawson |
| Format: | Book & DVD |
| Page Count: | 80 |
| Item Number: | 00-34367 |
| ISBN 10: | 0-7390-6642-0 |
| ISBN 13: | 978-0-7390-6642-3 |
| UPC: | 038081381121 |
---
Stay Updated
Want to get the latest updates and special offers from Alfred Music?