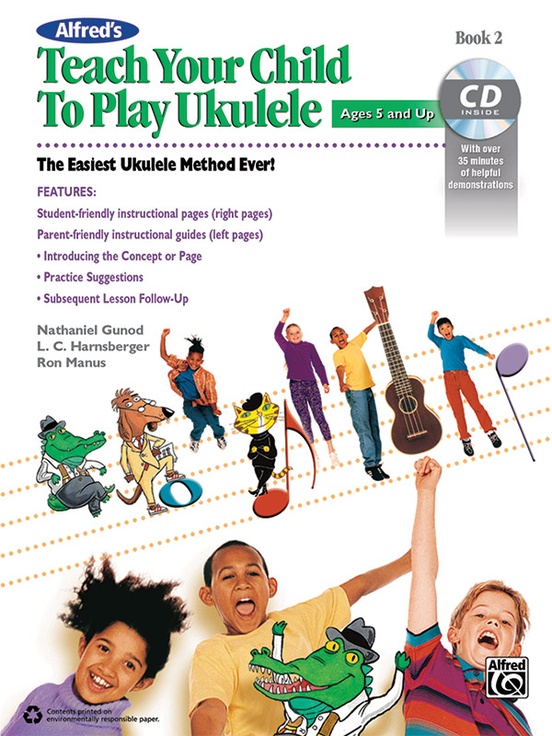 Alfred's Teach Your Child to Play Ukulele, Book 2
The Easiest Ukulele Method Ever!
By Ron Manus, Link Harnsberger, and Nathaniel Gunod
Ukulele Book & CD
Level: Beginner
Item: 00-43997
Add to Cart
Add to List
Share
---
Description
Alfred's Teach Your Child To Play Ukulele is designed for parents who want to share the gift of music with their children before they begin formal study with a professional teacher. It is based on Alfred's Kid's Ukulele Course, a fun method that teaches students to play songs on the ukulele right away. Families who are part of the homeschool movement will find this book especially useful.

Using the same music and fundamentals included in the original edition, an easy and user-friendly Parent Guide precedes each student page to aid with teaching the music to the child. The guide suggests steps for introducing the concept or page to the student, follow-up practice suggestions, and suggestions for reviewing the material in subsequent lessons.

The enclosed CD contains a recording of every piece in the book. Listening or playing along with the recording is fun, but more importantly, it reinforces concepts such as rhythm and switching smoothly between notes and chords. Using this book and CD, any parent can teach their child the basics of ukulele.
---
Contents
Title
Choosing a Ukulele to Use with This Book
Book 1 Review
All the Notes I Know So Far
This Is an Octave
Largo
Largo
Dotted Half Notes & 3/4 Time
Three Is for Me!
The Farmer in the Dell
Beautiful Brown Eyes
Introducing Common Time
Old MacDonald Had a Farm
Introducing B-Flat
Aura Lee
Three-String Boogie
Tempo Signs
Three-Tempo Rock
Rockin' Uke
Good Night Ladies
Blues in C
Ties
Down in the Valley
Key Signatures
Ode to Joy (Extended Version)
Pickup Measures
A-Tisket, A-Tasket
Tom Dooley
Eighth Notes
Jammin' with Eighth Notes
Go Tell Aunt Rhody
Love Somebody (Extended Version)
Clementine
Dotted Quarter Notes
Counting Dotted Quarter Notes
Cockles and Mussels
Dynamics
Echo Rock
The Streets of Laredo
The Down-and-Up-Stroke
The Fermata
Michael, Row the Boat Ashore
The G Chord
The D7 Chord
Introducing F-Sharp
Little Brown Jug
Over the Rainbow (Extended Version)
Review: Music Matching Games
Certificate of Completion
Ukulele Fingerboard Chart
---
---
Stay Updated
Want to get the latest updates and special offers from Alfred Music?