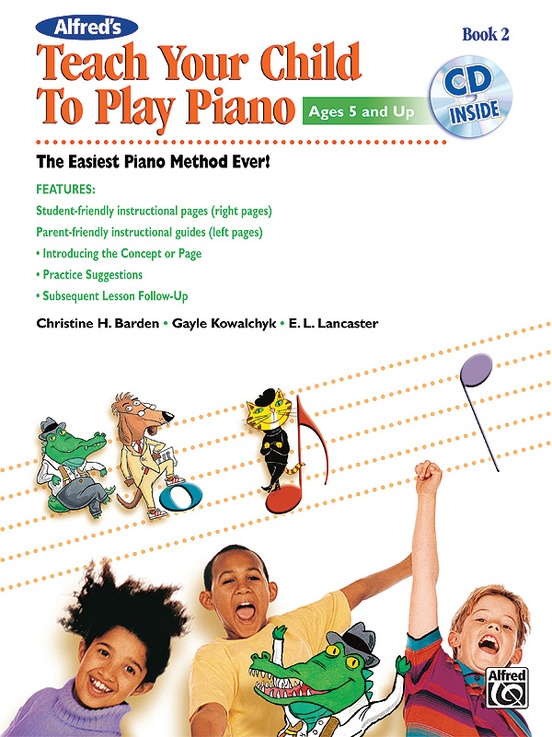 Alfred's Teach Your Child to Play Piano, Book 2
The Easiest Piano Method Ever!
By Christine H. Barden, Gayle Kowalchyk and E. L. Lancaster
Piano Book & CD
Level: Elementary
Item: 00-41049
Add to Cart
Add to List
Share
---
Description
This book is designed for parents as well as for families who are a part of the home school movement and wish to include piano in the curriculum. The step-by-step method provides materials that allow students to play pieces on the piano immediately. With an accompanying CD that demonstrates how the music sounds, each lesson is explained in plain language that is easy to understand. The enclosed CD contains a recording of every piece in the book. Preceding each student page is an Instructional Guide for the parent. The Instructional Guide suggests steps for introducing the page to the student, follow-up practice suggestions for the student to do without the parent, and suggestions for reviewing the page in subsequent lessons.
---
Contents
Title
Book 1 Review
Camptown Races
The Mulberry Bush
Jolly Old Saint Nicholas
Theme from New World Symphony
Mary Had a Little Lamb
God Is So Good
Staccato
Bouncing on the Bus
Music Class
2nds
Steps and Seconds
3rds
Thirds
Legato
Finger Steps
Finger Walk
Keyboard Dance
Melodic and Harmonic Intervals
A New Trick
My Turn
Chopsticks
4ths
Fourths
My Fourth
Big Ben
Aura Lee
Song of the Volga Boatmen
Here Comes the Bride
If You're Happy and You Know It
5ths
Fifths
The Bowing Song
Love Somebody
My Grand Finale
Alouette
In the City
Time to Go
The Amazing Pianist
My Advice
My Warm-Up
Three G's
Music Star
Page by Page
Yes I Can
Treble D
G Position for RH
Waiting for the School Bus
Traffic Lights
G Position for LH
At the Art Museum
Stop, Look, and Listen
G Position for Both Hands
Ode to Joy
Flat Sign
Tire Trouble
In a Flash
Oh, Dear! What Can the Matter Be?
Sharp Sign
The Test
Favorite Composers
Can-Can
Tied Notes
The Piano Concert
Flying Fingers
Theme from Swan Lake
Dance of the Reed Flutes
When the Saints Go Marching In
Music Matching Games
Certificate of Completion
---
Stay Updated
Want to get the latest updates and special offers from Alfred Music?