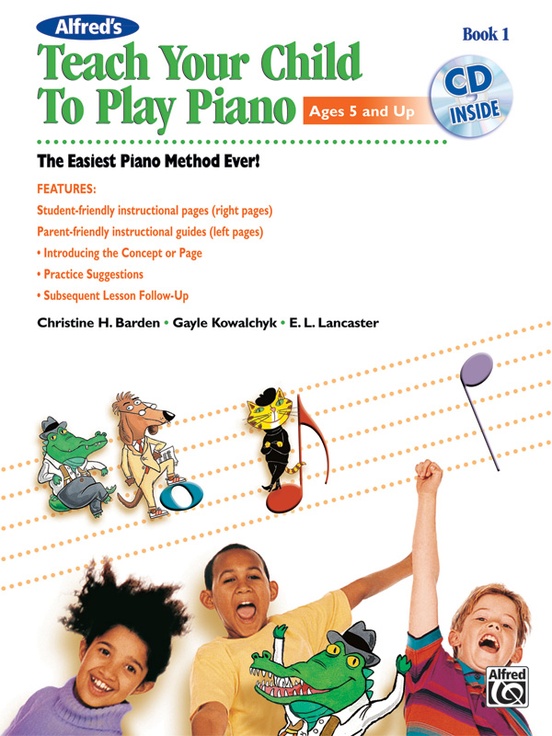 Alfred's Teach Your Child to Play Piano, Book 1
The Easiest Piano Method Ever!
By Christine H. Barden, Gayle Kowalchyk and E. L. Lancaster
Piano Book & CD
Level: Early Elementary
Item: 00-40769
Add to Cart
Add to List
Share
---
Description
This book is designed for parents as well as for families who are a part of the homeschool movement and wish to include piano in the curriculum. The step-by-step method provides materials that allow students to play pieces on the piano immediately. With an accompanying CD that demonstrates how the music sounds, each lesson is explained in plain language that is easy to understand. The enclosed CD contains a recording of every piece in the book. Preceding each student page is an Instructional Guide for the parent. The Instructional Guide suggests steps for introducing the page to the student, follow-up practice suggestions for the student to do without the parent, and suggestions for reviewing the page in subsequent lessons.
---
Contents
Title
HOW TO SIT AT THE PIANO
LEFT HAND FINGER NUMBERS
RIGHT HAND FINGER NUMBERS
THE KEYBOARD
TWO-BLACK-KEY GROUPS
THREE-BLACK-KEY GROUPS
PLAYING TWO BLACK KEYS
QUARTER NOTE
Right Hand Marching
Left Hand Walking
Playing Three Black Keys
QUARTER REST
A Mouse's Melody
A Bear's Song
HALF NOTE
Hot Cross Buns
WHOLE NOTE
Old MacDonald Had a Farm
WHITE KEYS
FINDING D ON THE KEYBOARD
The D Song
FINDING C ON THE KEYBOARD
The C Song
FINDING E ON THE KEYBOARD
The E Song
Go Tell Aunt Rhody (for RH)
Go Tell Aunt Rhody (for LH)
REVIEW: C, D, E
The C Song, Again!
FINDING B ON THE KEYBOARD
The B Song
FINDING A ON THE KEYBOARD
The A Song
WHOLE REST
Little Dance
Rainy Day
FINDING F ON THE KEYBOARD
The F Song
FINDING G ON THE KEYBOARD
The G Song
4/4 TIME SIGNATURE
Ice Cream
Music Stars!
3/4 TIME & DOTTED HALF NOTES
Ready to Play
Play 3/4 Time
Yankee Doodle
THE STAFF
TREBLE CLEF
Take a Step
Stepping Fun
Right Hand Song
BASS CLEF
Stepping Down
Music to Share
Left Hand Song
Music Friend
Circle Time
THE GRAND STAFF
MIDDLE C POSITION ON THE GRAND STAFF
Just for You
HALF REST
Haydn's Symphony
London Bridge
Twinkle, Twinkle, Little Star
Jingle Bells
New C
Three "D"-lightful Friends
Finger 3 on E
Great Big Day
C POSITION ON THE GRAND STAFF
Ode to Joy
Row, Row, Row Your Boat
Hush, Little Baby
The Wheels on the Bus
MUSIC MATCHING GAME
CERTIFICATE OF COMPLETION
---
---
Stay Updated
Want to get the latest updates and special offers from Alfred Music?