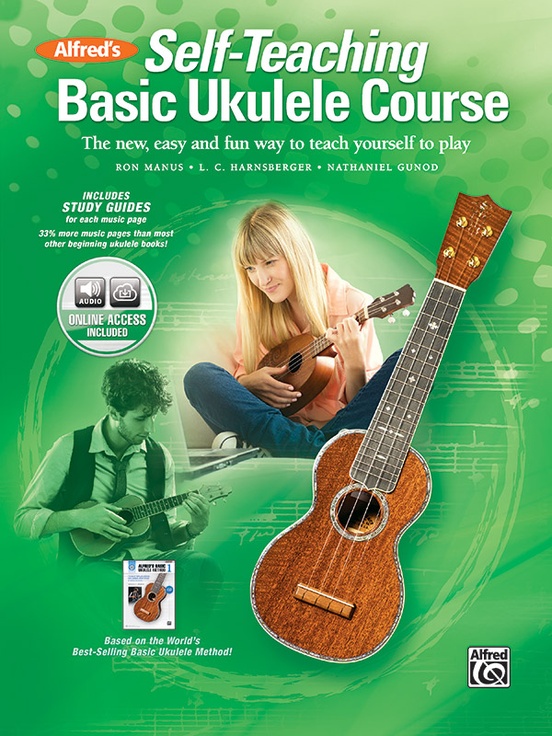 Alfred's Self-Teaching Basic Ukulele Course
The New, Easy, and Fun Way to Teach Yourself to Play
By Ron Manus, L. C. Harnsberger, and Nathaniel Gunod
Ukulele Book & Online Audio
Level: Beginner
Item: 00-44430
Add to Cart
Add to List
Related Items
| | | |
| --- | --- | --- |
| Alfred's Self-Teaching Basic Ukulele Course: Ukulele Book & Online Video/Audio | $20.99 | View |
Share
---
Description
Based on the World's Best-Selling Basic Ukulele Method!

Using the same music and fundamentals taught in Alfred's Basic Ukulele Method, easy and user-friendly Study Guide pages have been added to help you easily understand how to play. The Study Guide pages are almost like having a ukulele teacher sitting beside you as you learn the skills needed to perform popular and familiar music. They'll offer explanations, directions, and additional information on music theory, history, and songs and composers. As a special bonus, a nine-page supplement, Pathways to Becoming a Professional, is included at the end of this book. This essential guide offers invaluable tips to increase your skills as a player and as a performer. Online audio is included so you can hear how the music sounds and reinforce concepts like rhythm, dynamics, and phrasing.
---
Contents
Title
Introduction
Study Guides
Selecting Your Ukulele
The Parts of Your Ukulele
How to Hold Your Ukulele
The Right Hand: Strumming the Strings
Using Your Left Hand
How to Tune Your Ukulele
Getting Acquainted with Music
Reading Tab
The First String A
Playing with A, B, C
Picking
Extra Credit
Sound Off: How to Count Time
Repeat Signs
1st String Blues
The Second String E
Jammin' on Two Strings
Hot Cross Buns
Blues in C
Rockin' Uke
The Third String C
Jammin' on Three Strings
Largo
Jingle Bells
Beautiful Brown Eyes
Introducing B-Flat
Aura Lee
Three-String Boogie
Tempo Signs
Quarter Rest
Three-Tempo Rockin' Uke
Introducing Chords
The C7 Chord
The F Chord
Good Night Ladies
Key Signatures
Ties
Down in the Valley
Ode to Joy
The C Chord
Incomplete Measures
A-Tisket, A-Tasket
Tom Dooley
Eighth Notes
Jammin' with Eighth Notes
Dotted Quarter Notes
Go Tell Aunt Rhody
Cockles and Mussels
Clementine
The G7 Chord
Aloha 'Oe
When the Saints Go Marching In
The Down-and-Up Stroke
Love Somebody
The Streets of Laredo
The Fermata
Michael, Row the Boat Ashore
Frankie and Johnny
16th Notes
The Dotted 8th and 16th
Note Rhythm
Blues Strum
The G Chord
The D7 Chord
Careless Love
Introducing F-Sharp
D.C. Al Fine
Little Brown Jug
Bluegrass Strum
Gimme That Old-Time Religion
Calypso Strum
Mary Ann
The Sloop John B
Over the Rainbow
Bonus Section
Pathways to Becoming a Professional
Practice
How to Prepare for an Audition
How to Be the One Everyone Wants in Their Band
Rehearsing and Improving the Band
How to Get Gigs for the Band
The Gig
Ukulele Chord Dictionary
Ukulele Fingerboard Chart
---
---
Stay Updated
Want to get the latest updates and special offers from Alfred Music?