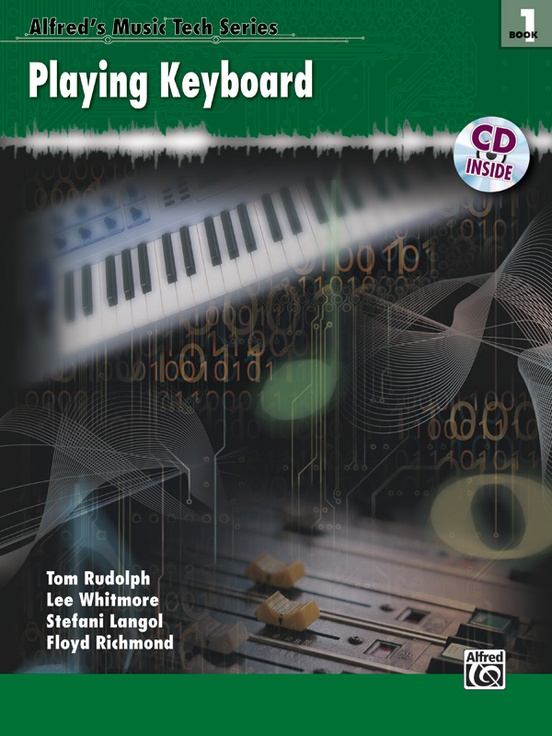 Alfred's Music Tech Series, Book 1: Playing Keyboard
By Tom Rudolph, Lee Whitmore, Stefani Langol, and Floyd Richmond
Book & Audio CD
Item: 00-25564
Add to Cart
Add to List
Share
---
Description
Alfred's Music Tech Series is designed for late elementary to high school students who are learning the piano in a group-lab setting. No previous keyboard-playing experience is required! Playing Keyboard is specifically designed for use in a keyboard lab setting, integrating a variety of performance activities to enhance the learning process and including challenging activities for students who have more advanced playing experience. The method has been designed and field tested over the past ten years by Dr. Tom Rudolph with students at both middle school and high school levels.

Playing Keyboard is organized into five units, each including progressive and supplemental activities for practice and reinforcement. Topics include:
Unit 1: Left- and right-hand melody in C position; percussion accompaniment
Unit 2: Two-hand melody with C chord; percussion accompaniment; enrichment songs
Unit 3: C and G7 chords with the left hand; improvise percussion parts; enrichment songs
Unit 4: C, F, and G7 chords with the left hand; percussion accompaniment; Theme and Variations form
Unit 5: Variations of the 12-bar blues progression in C; improvise melodies using the blues scale.
---
Contents
Title
Introduction
Unit 1
Sitting Position at the Keyboard
Hand Position
Finger Numbers
The Keyboard
Right-Hand Position
Left-Hand C Position
Unit 1 Extensions and Supplemental Activities
Unit 2
The Staff
Treble (G) Clef
Bass (F) Clef
The Grand Staff
Chords and Harmony
Playing the D Minor Chord
Challenge
Unit 2 Extensions and Supplemental Activities
Unit 3
C and G7 Chords -- Left Hand
Playing Chords
Alberti Bass
Melody and Chord Symbols (Lead Sheet)
The Tie
Glissando
Shifting Right-Hand Position
Crossover
Unit 3 Extensions and Supplemental Activities
Unit 4
F Chord in C Major
Playing a Bass Line
Rhythmic Variation
Minor Tonality and 3/4 Meter
Key Signatures
Unit 4 Extensions and Supplemental Activities
Unit 5
Sharps, Flats and Naturals
Tie
Bending Notes
Syncopation
Shifting Hand Position: Broken Chords
The Sustain Pedal
Jazz Improvisation
Unit 5 Extensions and Supplemental Activities
---
Additional Information
| | |
| --- | --- |
| Series: | Alfred's MusicTech Series |
| Format: | Book & Audio CD |
| Page Count: | 68 |
| Item Number: | 00-25564 |
| ISBN 10: | 0-7390-4074-X |
| ISBN 13: | 978-0-7390-4074-4 |
| UPC: | 038081274881 |
---
Stay Updated
Want to get the latest updates and special offers from Alfred Music?