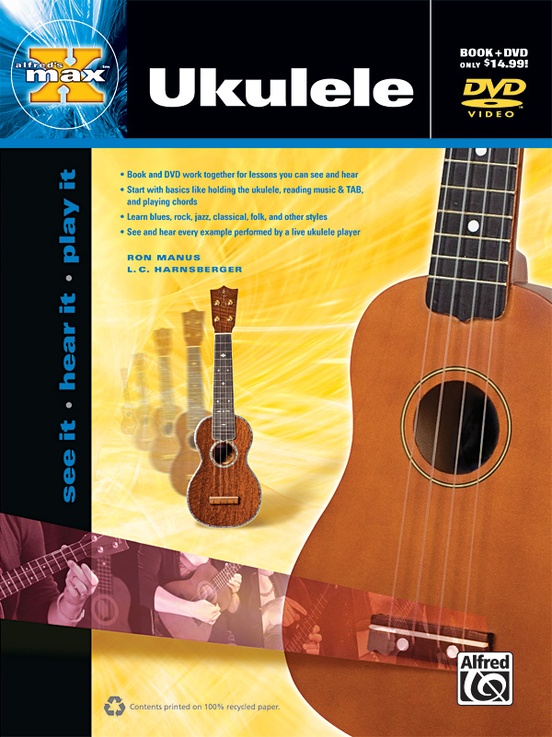 Alfred's MAX™ Ukulele Method
See It * Hear It * Play It
By Ron Manus and L. C. Harnsberger
Ukulele Book & DVD
Item: 00-38984
Add to Cart
Add to List
Share
---
Description
With Alfred's MAX Ukulele Method, you'll start with the basics like holding the ukulele, reading music and TAB, and playing chords. Styles covered include blues, rock, jazz, classical, folk, and more, and you'll hear every example performed by a live ukulele player. A DVD is included with every book in Alfred's MAX Series, offering maximum instruction at a minimum price. Now you won't just hear the music, you'll also see how it's done---making it very easy to learn to play. This is the best way to get started playing ukulele!
---
Contents
Title
Selecting Your Ukulele
The Parts of Your Ukulele
How to Hold Your Ukulele
Standing
Sitting
The Right Hand: Strumming the Strings
Strumming with a Pick
Strumming with Your Fingers
Using Your Left Hand
Hand Position
Placing a Finger on a String
How to Tune Your Ukulele
Tuning with the CD or DVD
Tuning the Ukulele to Itself
Pitch Pipes and Electronic Tuners
Getting Acquainted with Music
The Staff
Measures
Clefs
Reading TAB
Chord Diagrams
The First String A
Playing with A, B, and C
Extra Credit
Sound-Off: How to Count Time
4 Kinds of Notes
Time Signatures
Repeat Signs
1st String Blues
The Second String E
Jammin' on Two Strings
Hot Cross Buns
Blues in C
Rockin' Uke
The Third String C
Jammin' on Three Strings
Largo
Jingle Bells
Beautiful Brown Eyes
Introducing B-Flat
Aura Lee
Three-String Boogie
Tempo Signs
Three-Tempo Rockin' Uke
Quarter Rest
The C7 Chord
The F Chord
Good Night Ladies
Key Signatures
Ties
Down in the Valley
Ode to Joy
The C Chord
Incomplete Measures
A-Tisket, A-Tasket
Eighth Notes
Jammin' with Eighth Notes
Dotted Quarter Notes
Cockels and Mussells
Clementine
The G7 Chord
Aloha 'Oe
When the Saints Go Marching In
Love Somebody
The Streets of Laredo
The Down-and-Up Stroke
The G Chord
The D7 Chord
Calypso Strum
Introducing F-Sharp
The Sloop John B
---
---
Stay Updated
Want to get the latest updates and special offers from Alfred Music?