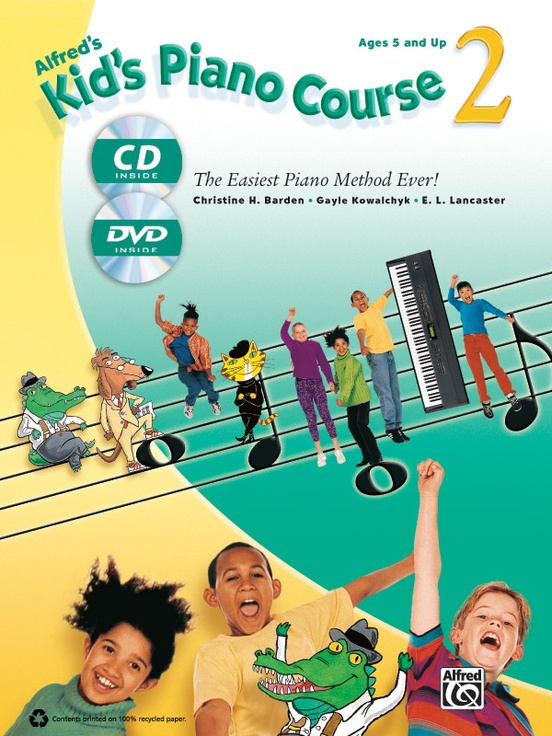 Alfred's Kid's Piano Course 2
The Easiest Piano Method Ever!
By Christine H. Barden, Gayle Kowalchyk, and E. L. Lancaster
Keyboard/Piano Book, CD & DVD
Level: Beginner
Item: 00-41076
This item is permanently out of print
Related Items
| | | |
| --- | --- | --- |
| Alfred's Kid's Piano Course 2: Keyboard/Piano Book & Online Video/Audio | $15.99 | View |
Share
---
Description
Alfred's Kid's Piano Course is the easiest piano method ever for kids ages 5 and up. Using plain language that's easy for kids to understand, three irresistible piano experts guide students along---a clever classical dog, one cool jazz cat, and a friendly alligator who loves the blues---they draw attention to what's important on each page and make learning music fun! Book 2 picks up where book 1 left off. Kids will learn to play more notes and melodies, read additional music, and perform lots of fun songs.

This book also includes an accompanying MP3 CD so you always know how the music should sound. The disc includes beautiful recordings of all the music in the book and can be downloaded to your iPod® or other mp3 player. The DVD includes every lesson and example explained and played by expert teacher Gayle Kowalchyk. Ideal for home schooling.
---
Contents
Title
Book 1 Review
Camptown Races
The Mulberry Bush
Jolly Old Saint Nicholas
Theme from New World Symphony
Mary Had a Little Lamb
God Is So Good
Staccato
Bouncing on the Bus
Music Class
2nds
Steps and Seconds
3rds
Thirds
Legato
Finger Steps
Finger Walk
Keyboard Dance
Melodic and Harmonic Intervals
A New Trick
My Turn
Chopsticks
4ths
Fourths
My Fourth
Big Ben
Aura Lee
Song of the Volga Boatmen
Here Comes the Bride
If You're Happy and You Know It
5ths
Fifths
The Bowing Song
Love Somebody
My Grand Finale
Alouette
In the City
Time to Go
The Amazing Pianist
My Advice
My Warm-Up
Three Gs
Music Star
Page by Page
Yes I Can
Treble D
G Position for RH
Waiting for the School Bus
Traffic Lights
G Position for LH
At the Art Museum
Stop, Look and Listen
G Position for Both Hands
Ode to Joy
Flat Sign
Tire Trouble
In a Flash
Oh, Dear! What Can the Matter Be?
Sharp Sign
The Test
Favorite Composers
Can Can
Tied Notes
The Piano Concert
Flying Fingers
Theme from Swan Lake
Dance of the Reed Flutes
When the Saints Go Marching In
Music Matching Games
Certificate of Completion
---
---
Stay Updated
Want to get the latest updates and special offers from Alfred Music?