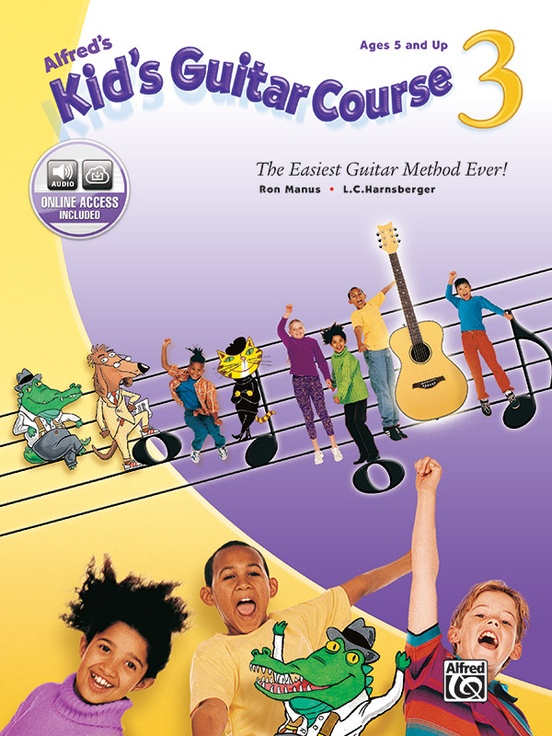 Alfred's Kid's Guitar Course 3
The Easiest Guitar Method Ever!
By Ron Manus and L. C. Harnsberger
Guitar Book & Online Audio
Item: 00-33414
Add to Cart
Add to List
Share
---
Description
Alfred's Kid's Guitar Course is the #1 best-selling guitar method for kids! This award-winning ("Best Product of the Year"---Disney's iParenting Media Award) method is the easiest guitar method ever for kids ages 5 and up. Using plain language that's easy for kids to understand, three irresistible guitar experts guide students along---a clever classical dog, one cool jazz cat, and a friendly alligator who loves the blues---they draw attention to what's important on each page and make learning music fun! Kids will learn to play chords and melodies, read music, and perform lots of fun songs.

Parents can be effective guides to help you through this course, even if they've never had any musical training themselves. Book 3 starts where Book 2 and the Complete book leave off. You'll learn new rhythms, chords, chromatic notes, and how to play the song "Over the Rainbow." Plus, you can listen to every song on the included recording. This book prepares students for Alfred's Basic Guitar Method, Book 2.
---
Contents
Title
Book 2 Review
Introducing B-Flat
B-Flat Bop
Good Night Ladies
Key Signatures
Ode to Joy (Extended Version)
Eighth Notes
Jammin' with Eighth Notes
Clementine
Go Tell Aunt Rhody
Eighth Note Rock
Dotted Quarter Notes
Counting Dotted Quarter Notes
Cockles and Mussels
Auld Lang Syne
The Down-and-Up Stroke
The Streets of Laredo
Introducing F-Sharp
Little Brown Jug
Introducing the Four-String D7 Chord
Rockin' the Bach
Amazing Grace
Bass-Chord Accompaniment in 34
Cielito Lindo
Sharps, Flats, and Naturals
Half Steps and Whole Steps
The Chromatic Scale
Chromatic Scale Going Up
Chromatic Scale Going Down
Chromatic Rock
Rockabilly Bass Line
The Four-String D Chord
Four-Beat Blues
Frankie and Johnny
The Major Scale
Introducing the C Major Scale
C Major Scale Exercise
This Is an Octave
Joy to the World
The G Major Scale
Key Signature
Polly Wolly Doodle
Crescendo and Diminuendo
The F Major Scale
Accidentals
Give My Regards to Broadway
The Man on the Flying Trapeze
Introducing Eighth Rests
Clap and Count Out Loud
La Bamba
Three Principal Chords
Rockin' with Three Chords in G
King Louie Rocks
Introducing Five- & Six-String Chords
The Five-String A Chord
The Six-String E7 Chord
Three Principal Chords in A
The 12-Bar Blues in A (duet)
Introducing the Pentatonic Scale
Over the Rainbow
Music Matching Games
Guitar Fingerboard Chart
Chord Encyclopedia
Certificate of Completion
---
---
Stay Updated
Want to get the latest updates and special offers from Alfred Music?