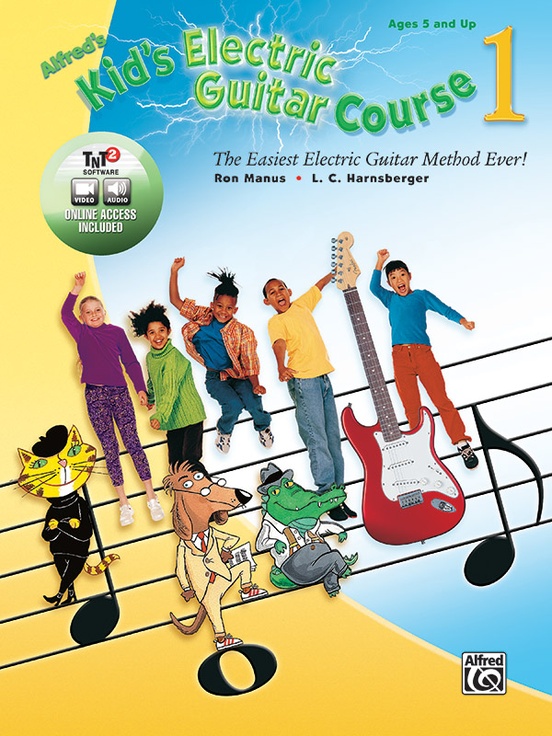 Alfred's Kid's Electric Guitar Course 1
The Easiest Electric Guitar Method Ever!
By Ron Manus and L. C. Harnsberger
Guitar Book & Online Video/Audio/Software
Item: 00-44487
Add to Cart
Add to List
Share
---
Description
Alfred's Kid's Electric Guitar Course is a fun method that teaches you to play songs on the electric guitar right away! Every lesson is explained in plain language that's easy to understand, and accompanying online audio demonstrations let you hear how the music should sound. You'll learn from three irresistible guitar experts---a clever classical dog, one cool jazz cat, and a friendly alligator who loves the blues. They draw attention to what's important on each page and help you learn by making music fun. Parents can be effective guides to help you through this course, even if they've never had any musical training themselves.

A fun and exciting video, featuring expert performer and educator Jared Meeker, is included. It takes a zany, fun approach that keeps everyone interested in learning---you never know what's going to happen next! The media also includes Alfred's TNT 2 software that lets you slow down songs so you can practice at your own pace. The video and software are both accessible online.

Get ready to take your first and best step toward a lifetime of musical enjoyment!
---
Contents
Title
Selecting Your Guitar
Types of Electric Guitars
Electric Guitars and Amps
Caring for Your Guitar
The Amplifier
Tuning Your Guitar
Tuning with the Audio Tracks
Tuning without the Audio Tracks or Video
How to Hold Your Guitar
Strumming the Strings
Strumming with a Pick
Strumming with Your Fingers
Time to Strum!
Strumming Notation
Beats
The Quarter-Note Slash
The Staff and Treble Clef
Bar Lines, Measures, and Time Signatures
More Time to Strum
Using Your Left Hand
Hand Position
Placing a Finger on a String
How to Read Chord Diagrams
The Three-String C Chord
My First Chord
The Quarter Rest
Three Blind Mice
The Three-String G7 Chord
My Second Chord
Troubadour Song
Skip to My Lou
London Bridge
The Three-String G Chord
My Third Chord
Three Chords in One Song
Rain Comes Down
The Repeat Sign
Merrily We Roll Along
Love Somebody
The Three-String D7 Chord
My Fourth Chord
Using D7 with Other Chords
When the Saints Go Marching In
Yankee Doodle
Getting Acquainted with Music Notation
Notes
The Staff
The Music Alphabet
Clefs
The Quarter Note
Clap and Count out Loud
Notes on the First String: Introducing E
Elizabeth, the Elephant
The Note E with Chords
Note and Strum
Notes on the First String: Introducing F
Up-Down-Up
The Notes E and F with Chords
Notes on the First String: Introducing G
The Mountain Climber
The Notes E, F, and G with Chords
Brave in the Cave
Single Notes, Then Chord! Chord! Chord!
Pumpkin Song
Notes on the Second String: Introducing B
Two Open Strings
Two-String Melody
Jumping Around
Notes on the Second String: Introducing C
Ping Pong Song
Soccer Game
The Half Rest
When I Feel Best
Notes on the Second String: Introducing D
A-Choo!
The Half Note
Ode to Joy
Jingle Bells
Mary Had a Little Lamb
Notes on the Third String: Introducing G
Three Open Strings
Little Steps and Big Leaps
Alouette
Notes on the Third String: Introducing A
The Whole Note
A Is Easy!
Taking a Walk
Aura Lee
She'll Be Comin' 'Round the Mountain
Music Matching Games
Certificate of Promotion
---
Additional Information
| | |
| --- | --- |
| Series: | Kid's Guitar Course |
| Author: | Ron Manus, L. C. Harnsberger |
| Instrument: | Guitar |
| Format: | Book & Online Video/Audio/Software |
| Page Count: | 48 |
| Item Number: | 00-44487 |
| ISBN 10: | 1-4706-2404-4 |
| ISBN 13: | 978-1-4706-2404-0 |
| UPC: | 038081502373 |
---
Stay Updated
Want to get the latest updates and special offers from Alfred Music?