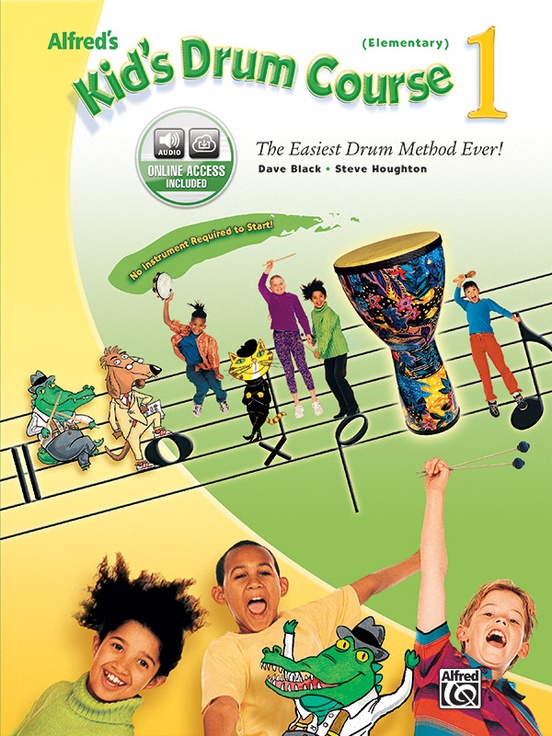 Alfred's Kid's Drum Course 1
The Easiest Drum Method Ever!
By Dave Black and Steve Houghton
Snare Drum Book & Online Audio
Item: 00-23182
Add to Cart
Add to List
Related Items
| | | |
| --- | --- | --- |
| Alfred's Kid's Drum Course 1: Snare Drum Starter Kit (Sound Shape™ included) | $25.99 | View |
Share
---
Description
Three irresistible drum experts---a clever, classical dog, one cool cat, and a friendly alligator---keep students' attention focused by pointing out what's important on each page and help make learning music fun! This full-color book is specifically designed with attention-grabbing illustrations for use with kids at the elementary level. 48 pages.
---
Contents
Title
Preface
Acknowledgments
Selecting Your Sound Source
Non-Traditional Instruments
Traditional Instruments
Caring for Your Instrument
Sticks, Mallets and Beaters
How to Hold the Sticks, Mallets and Beaters (the Matched Grip)
Beats
Body Drumming
Time to Clap and Stomp
Getting Acquainted with Music Notation
Notes
Introducing the Quarter Note
The Staff
The Clef
Bar Lines, Measures, and Time Signatures
My First Rhythm
General Practice Tips
Introducing the Quarter Rest
Three Blind Mice
Troubadour Song
Introducing Two Sound Sources
Single Beats, Then Improvise
Introducing the Quarter-Note Slash
Introducing the Half Note
Introducing the Half Rest
Introducing the Whole Note
Introducing the Eighth Note
Skip to My Lou
Introducing Repeat Dots
Merrily We Roll Along
London Bridge
Introducing 2/4 Time
The Double Stroke
Three Rhythms in One Song
Rain Comes Down
Improvise on a Sound Source
Introducing Coordination
Love Somebody
More Advanced Coordination
Introducing Dotted Notes
A Brief History of Dixieland
Introducing the Accent
When the Saints Go Marching In
Jumping Around
Yankee Doodle
Introducing Singles and Doubles
Elizabeth, the Elephant
Paradiddle Exercises
Brave in the Cave
Introducing the Sixteenth Note
Up-Down-Up
Trio (Up-Down-Up)
Introducing 6/8 Time
La Raspa
The Mountain Climber
Itsy Bitsy Spider
Mary Had a Little Lamb
Ping Pong Song
Soccer Game
Introducing Two New Rhythms
Pumpkin Song
Ode to Joy
A-Choo!
Jingle Bells
Alouette
Introducing Jazz
Taking a Walk
Little Steps and Big Leaps
Introducing Syncopation
Swing, Taiko, Tango
Aura Lee
She'll Be Comin' 'Round the Mountain
Certificate of Promotion
---
Additional Information
| | |
| --- | --- |
| Series: | Kid's Drum Course |
| Author: | Dave Black, Steve Houghton |
| Instrument: | Snare Drum |
| Format: | Book & Online Audio |
| Page Count: | 48 |
| Item Number: | 00-23182 |
| ISBN 10: | 0-7390-3609-2 |
| ISBN 13: | 978-0-7390-3609-9 |
| UPC: | 038081232461 |
---
Stay Updated
Want to get the latest updates and special offers from Alfred Music?