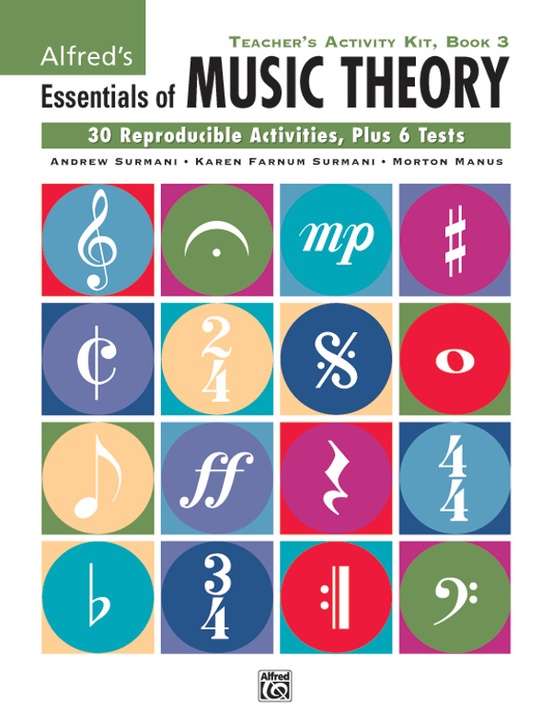 Alfred's Essentials of Music Theory: Teacher's Activity Kit, Book 3
By Andrew Surmani, Karen Farnum Surmani, and Morton Manus
Book
Item: 00-26321
Add to Cart
Add to List
Share
---
Description
Alfred's Essentials of Music Theory is designed for students of any age, whether listeners or performers, who want to have a better understanding of the language of music. In this all-in-one theory course, you will learn the essentials of music through concise lessons, practice your music reading and writing skills in the exercises, improve your listening skills with the available ear-training CDs (sold separately), and test your knowledge with a review that completes each unit.

The Teacher's Activity Kit for Volume 3 includes five reproducible activities for each of the six units in Volume 3 of the Student Books. The wide variety of activities includes Music Crossword Puzzles, Note Naming, Matching Games, Musical Math, Word Scrambles, and others for a total of 30 Activities in all. There is also one Test per Unit that covers all the theory concepts introduced in that Unit. Each reproducible page includes scoring boxes to help the instructor grade the page.

The complete line of Alfred's Essentials of Music Theory includes Student Books, a Teacher's Answer Key, Ear-Training CDs, Double Bingo games, Flash Cards, Reproducible Teacher's Activity Kits, and interactive software for students and teachers in private study, studio and network environments.
---
Contents
Title
Unit 13
Triads---1st Inversion
Triads---2nd Inversion
V-7 Chord---1st, 2nd, and 3rd Inversions
Figured Bass
Major Chord Progressions
Unit 13 Test
Unit 14
Minor Scales
Natural, Harmonic and Melodic Minor Scales
Minor Triads
Augmented & Diminished Triads
Minor, Augmented and Diminished Triads Review
Unit 14 Test
Unit 15
The Primary Triads in Minor Keys
Minor Chord Progressions
Modes Related to the Major Scale: Ionian, Mixolydian, Lydian
Modes Related to the Minor Scale: Aeolian, Dorian
Modes Related to the Minor Scale: Aeolian, Dorian, Phrygian, Locrian
Unit 15 Test
Unit 16
Harmonizing a Melody in a Major Key
Broken Chords & Arpeggiated Accompaniments
Passing & Neighboring Tones
Composing a Melody in a Major Key
Composing a Melody with Harmony in a Major Key
Unit 16 Test
Unit 17
Harmonizing a Melody in a Minor Key
Composing a Melody in a Minor Key
12-bar Blues Chord Progression
The Blues Scale
Composing and Harmonizing a Blues Melody
Unit 17 Test
Unit 18
Basic Forms of Music---Motive and Phrase
AB (Binary) Form
ABA (Ternary) Form
Rondo Form
Form Review
Unit 18 Test
Answer Keys
Grade Form
---
---
Stay Updated
Want to get the latest updates and special offers from Alfred Music?