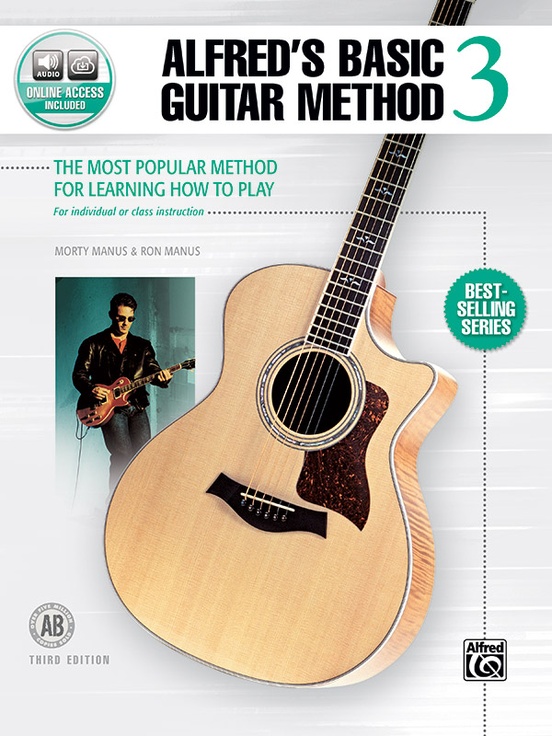 Alfred's Basic Guitar Method 3 (Third Edition)
The Most Popular Method for Learning How to Play
By Morty Manus and Ron Manus
Guitar Book & Online Audio
Item: 00-45308
Add to Cart
Add to List
Share
---
Description
Alfred's Basic Guitar Method, Book 3 builds on the skills learned in Books 1 and 2. Learn new concepts and techniques like sixteenth notes, arpeggios, slides, bends, hammer-ons, and pull-offs. For the first time, companion audio tracks that can be downloaded or streamed online are included with the book, so you'll have everything you need in one place.

Recognized for over 50 years as the best-paced and most comprehensive guitar method available, Alfred's Basic Guitar Method has introduced over five million beginners to the joy of playing guitar. Correlating theory, chord, and pop books provide everything you need from one complete method. Learning to play has never been easier or more fun than with Alfred's Basic Guitar Method---the first and best choice for today's beginning guitar students.
---
Contents
Title
What You Should Know Before Starting This Book
Chord Exercises
Sixteenth Notes
Mixin' It Up
The Happy Sailor
Variations on a Square Dance Tune
Etude in D
Arpeggios
East Side, West Side
The Man on the Flying Trapeze
Scarborough Fair (duet)
The Doo-Wop Ballad
My Angel Baby (duet)
Key of A Major
Tunes That Teach Technic No. 1
Scale Etude in A Major
Arpeggio Etude
Hard, Ain't It Hard
Hail, Hail, the Gang's All Here
Sixteenth Note Studies in A Major
Hammer-ons
John Hardy
Old Blue
Calypso
Hey Lolly Lolly
The Sloop "John B"
Key of D Minor
Sicilian Tarantella
Sixteenth Notes and 6/8 Time
The House of the Rising Sun (duet)
Key of E Major
Finger Exercise in E
The Blue Tail Fly
Using Passing Notes in the Bass
Diminished 7th Chords
You Tell Me Your Dream
Pull-offs
Country Dance
Blues in A
The Polka (duet)
Grace Notes
Amazing Grace Notes
Colonel Bogey
Augmented Chords
Slides
Slidin' Around (duet)
Tunes That Teach Technic No. 2
Devil's Dream Hornpipe
Our Katie
Abide with Me (duet)
Beguine
Guitarra Romana (duet)
Bends
Bending the Blues
Pistol Pete
Counterpoint
Simple Melody (trio)
Tunes That Teach Technic No. 3
Onyx Club Hop
Just Lopin' Along
Jingle for a Sunny Day
---
---
Stay Updated
Want to get the latest updates and special offers from Alfred Music?