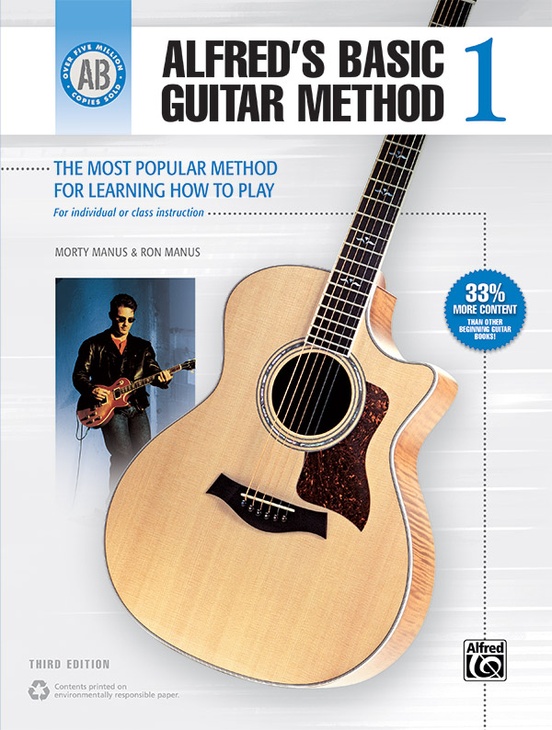 Alfred's Basic Guitar Method 1 (Third Edition)
The Most Popular Method for Learning How to Play
By Morty Manus and Ron Manus
Item: 00-33304
Add to Cart
Add to List
Available Digitally
Related Items
| | | |
| --- | --- | --- |
| Alfred's Basic Guitar Method 1 (Third Edition): Guitar Book & Online Video/Audio/Software | $14.99 | View |
| Alfred's Basic Guitar Method 1 (Third Edition): Guitar Book & Online Audio | $9.99 | View |
| Alfred's Basic Guitar Method 1 (Third Edition): Guitar Enhanced CD | $9.95 | View |
Share
---
Description
Recognized for over 50 years as the best-paced and most comprehensive guitar method available, Alfred's Basic Guitar Method has introduced over 3 million beginners to the joy of playing guitar. This updated and expanded edition features a new layout, making it easier to read and learn. Now included are blues, country, folk, jazz, and rock styles, plus more pop songs! New DVDs with iPod-compatible video are now available for the visual learner, and correlating theory, chord, and pop books ensure that you'll get everything you need from one complete method. Learning to play has never been easier or more fun than with Alfred's Basic Guitar Method---the first and best choice for today's beginning guitar students.

Book 1 covers how to hold your guitar, tuning your guitar, basics of reading music, notes on all six strings, chords, scales and songs, bass-chord accompaniments, duets, photos and diagrams, and acoustic and electric guitars. Titles: Singin' in the Rain * Take Me Home Country Roads * Over the Rainbow * Annie's Song * When the Saints Go Marching In.
---
Contents
Title
The Parts of Your Guitar
How to Hold Your Guitar
The Right Hand
The Left Hand
How to Tune Your Guitar to a Keyboard
Getting Acquainted with Music
The First String E
Playing with E, F, G
More
Still More
No More
Sound-Off: How to Count Time
The Second String B
Two-String Rock
Merry-Go-Round
Beautiful Brown Eyes
Guitar Rock
Jingle Bells
Alouette
The Third String G
Au clair de la lune
Three-String Rock
Largo
Back to the '50s
Repeat Signs
Aura Lee
Introducing Chords
Chord Study No. 1
Chord Study No. 2
Three-String C Chord
Ode to Joy
Quarter Rest
Rock 'n' Rhythm
Three-String G7 Chord
Two-Chord Rock
Love Somebody
Three-String G Chord
Rockin' with G & C
Down in the Valley
Oh, Susanna
The Fourth String D
Old MacDonald Had a Farm
Hold Sign (Fermata)
Reuben, Reuben
Common Time
G Whiz
Bohemian Folk Song
Good Night, Ladies
Daisy Bell (A Bicycle Built for Two)
Four-String G & G7 Chords
Laughing Polka
The Fifth String A
Volga Boatmen
Peter Gray
Low-Down Rock
Liebesträum
Boogie Style
Introducing High A
Rockin' in Dorian Mode
The Riddle Song
Incomplete Measures
A-tisket, A-tasket
The Yellow Rose of Texas
The Sixth String E
Down Low
Bottom to Top
Tempo Signs
Three-Tempo Rock
The Blue Danube Waltz
Bass-Chord Accompaniment
Can-Can (duet)
Dynamics
Echo Waltz
Signs of Silence
The Desert Song (Study in Counting)
Echo Rock
She'll Be Comin' 'Round the Mountain
Four-String C Chord
Ties
When the Saints Go Marching In (duet or trio)
More Bass-Chord Accompaniments
Chiapanecas
Eighth Notes
Happy Birthday to You
Eighth-Note Bounce
Walkin' Bass Rock
More Dynamic Signs
Pachelbel's Canon
Annie's Song
Sharps, Flats, and Naturals
The Chromatic Scale
Chromatic Rock
My Melancholy Baby
Over the Rainbow
Four-String D7 Chord
Four-Beat Blues
Amazing Grace
Rockin' the Bach
Buffalo Gals
The Major Scale
Key Signatures
Eighth Rests
Eighth Rest Exercise No. 1
Eighth Rest Exercise No. 2
Eighth Rest Exercise No. 3
Bill Bailey
La Bamba
Dotted Quarter Notes
Auld Lang Syne
Singin' in the Rain
Take Me Home, Country Roads
Certificate of Promotion
---
---
Stay Updated
Want to get the latest updates and special offers from Alfred Music?