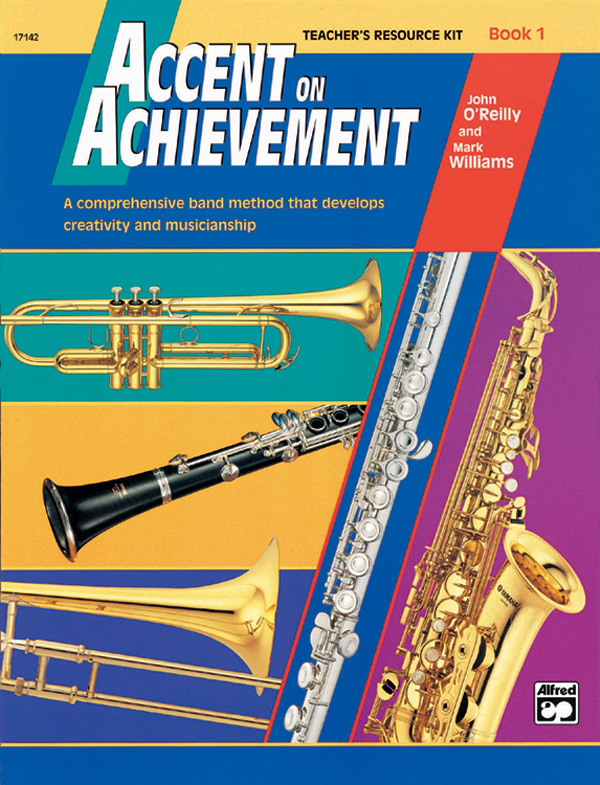 Accent on Achievement Teacher's Resource Kits for Books 1 and 2
Teacher's Resource Kits are available for Books 1 and 2. A necessity for any music educator, each kit is packed with special assessment pages, additional teaching assignments, classroom materials, and even letters to parents - everything to complete your curriculum!
BOOK 1 Teacher Book, Flashcards, & CD (00-17142)..........$29.95
BOOK 2 Teacher Book, Flashcards, & CD (00-18276)..........$29.95
Shop Now
Components Include:
In Class Assessment Exercises
Have you ever used the same song in a book to assess the band during class? By the fifth student, everyone has memorized the melody! The assessment exercises in the assessment level are a challenge for your students. And just to keep them on their toes, there are more than three exercises that are numbered differently for each instrument! You will have a perfect tool to test your student's reading abilities.
Music Theory Worksheets (Reproducible) 
There are eight different theory worksheets that can be assigned throughout the semester. Worksheets 1-4 test on note naming and rudiments. These worksheets are specifically written for treble clef instruments, bass clef instruments, and percussion. The remaining worksheets are for all instruments, testing rhythmic patterns.
Music History Worksheets (Reproducible)
The history worksheets are a great way to bring music into the other subjects that students are learning in school. There is a worksheet for each composer featured the Accent on Achievement books. Each composer is featured on one page for easy homework assignments, with the following information:
Period Picture
Biographical Material
World Events Timeline
Assessment Exercises
World Music Locator Maps (Reproducible)
You'll find these maps supplement folk songs that the students in their lesson books. You can easily acquaint your students with these beautiful melodies and help them find their origins on the world map!
Sample Letters to Parents (Reproducible) 
These letters will help you communicate better with parents to notify them of important stages in their child's learning. There are letters for beginning the school year, concert dates, and end of the school year, in both English and Spanish.
Rhythm Flashcards
40 different rhythms are covered in these handy flash cards. Perfect for drilling the class on clapping rhythmic patterns!
Listening CD
The Listening CD contains recorded excerpts of symphony orchestras and concert bands playing the classic works that are included in the book, in their original forms.