Accent on Achievement Menu
Accent on Achievement Course Overview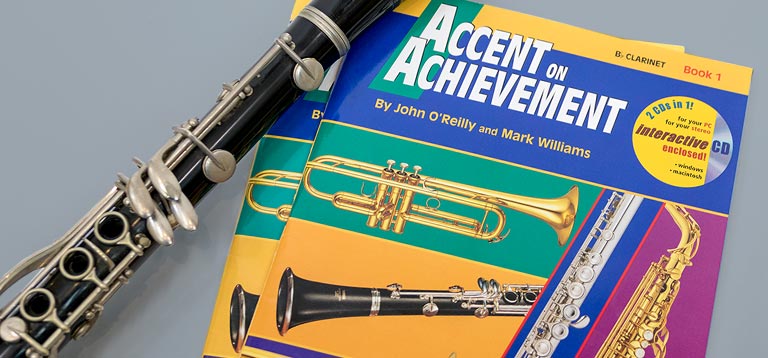 Accent on Achievement was written by John O'Reilly and Mark Williams, two of the most-performed composers of band music in the world today. Hailed as experts in the area of beginning band instruction, O'Reilly and Williams' have made a major impact on contemporary instrumental music education. Books 1–3 are available in SmartMusic.
View Author Bios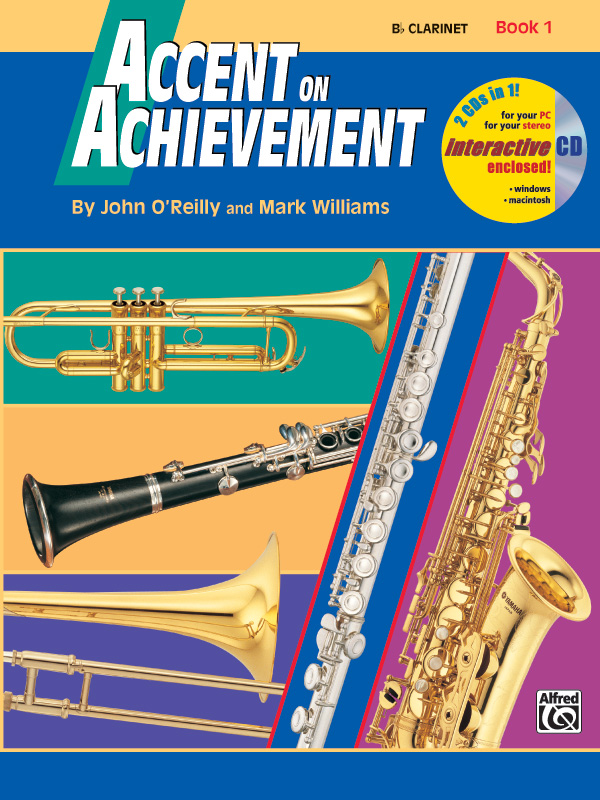 Book 1
This revolutionary, best-selling band method that will excite and stimulate your students through full-color pages and the most complete collection of classics and world music in any band method. Ensure that your students will remember what they learn as they progress quickly using the comprehensive review cycle and color-coded page layout. Reinforcement opportunities include rhythm and rest exercises, chorales, scale exercises, and six full band arrangements. Accent on Interactivity Software will allow your students to practice, record themselves, and evaluate their performance. Accent on Achievement meets and exceeds the USA National Standards for music education, grades five through eight. Check out the sequential note chart and musical concepts review chart to view the score & sequence of Book 1.
Learn More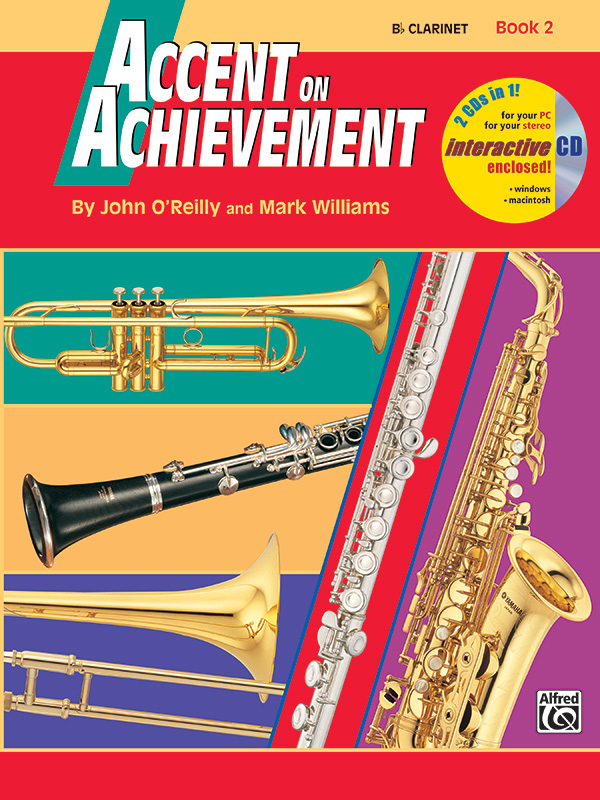 Book 2
Accent on Review sections provide a thorough review of previous materials, bringing your students up to speed and providing a smooth transition from Book 1. Six full-band arrangements provide plenty of ensemble playing experience so your students can learn to listen critically. Introduce your students to 26 classical composer and 41 folk songs. Reinforcement exercises include duets, chorales, rhythm exercises, theory work, scale exercises, and more. Accent on Achievement meets and exceeds the USA National Standards for music education, grades five through eight. Check out the sequential note chart to view the score & sequence of Book 2.
Learn More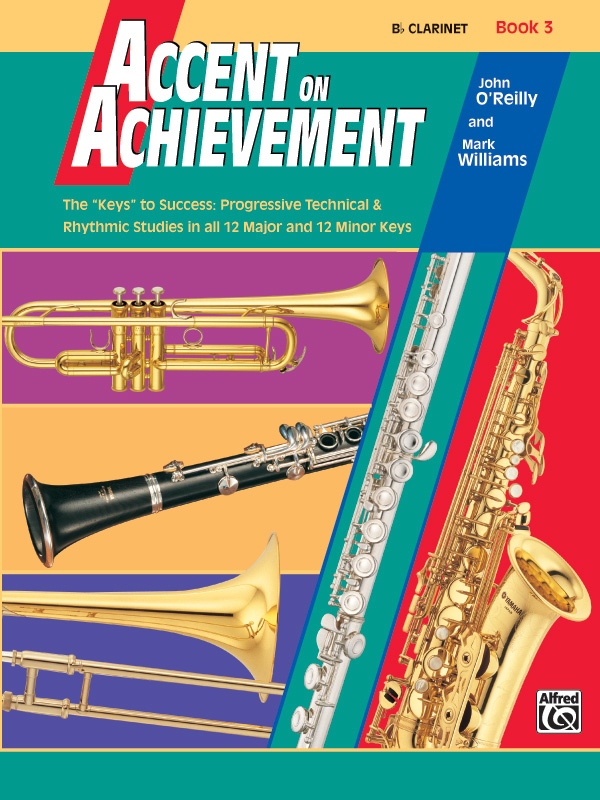 Book 3
Book 3 is organized by key signature and includes progressive technical, rhythmic studies and chorales in all 12 major and minor keys. Major, harmonic minor, chromatic, and melodic minor scales are also provided in all twelve keys as a great practice resource. Also included are lip slur exercises for increasing brass instrument range and flexibility. Special rhythmic exercises allow your students to learn advanced asymmetrical and changing rhythms and meters. Develop tone, intonation, balance, and blend with 12 chorales. Book 3 is also written for ease of use and efficient utilization of rehearsal time, and is designed to produce the maximum technical development in the least amount of time. As a great resource for the busy band director, Book 3 may be used by upper level as well as progressing bands, serving as the "all-in-one" sourcebook for developing technically superior players.
Learn More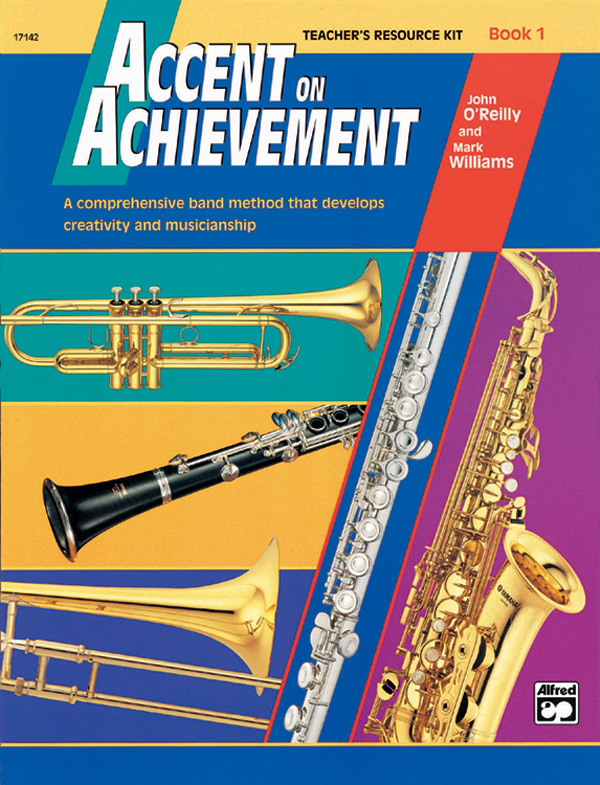 Teacher's Resource Kits
Tools are provided for student assessment, including reproducible worksheets for music theory and music history, world locator maps, sample letters to parents, rhythm flashcards, and a listening CD. The listening CD includes excerpts of symphony orchestra and concert bands playing the classic works included in the book, full versions of the Accent on Performance pieces, and full versions of the Accent on Chorales.
Shop Now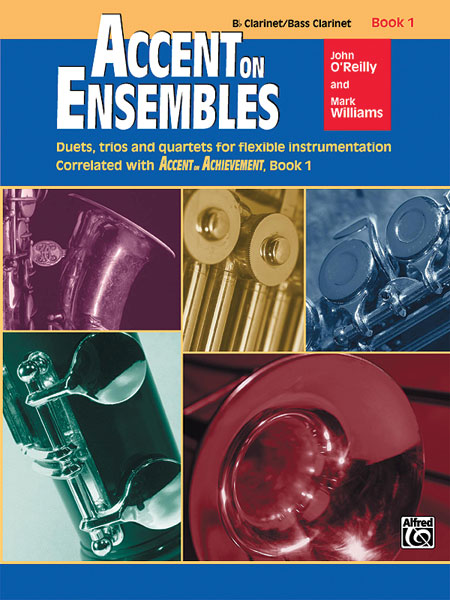 Accent on Ensembles
Provide more ensemble practice with the Accent on Ensembles collections of music, perfect for any combination of instruments. Each book features a variety of ensembles like duets, trios, and quartets. Directly correlated with Accent on Achievement, so you can supplement your band class with small ensemble playing.
Shop Now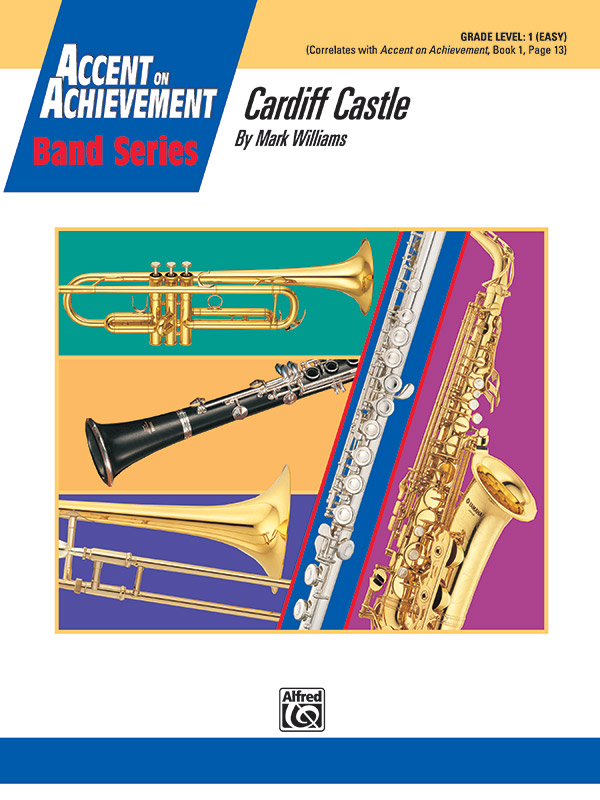 Correlated Performance Music
Exciting original compositions and arrangements are correlated to specific pages. Extended arrangements of folk tunes and classical themes used in the method will help to further enhance your students' understanding of multi-cultural music and works of the masters.
Shop Now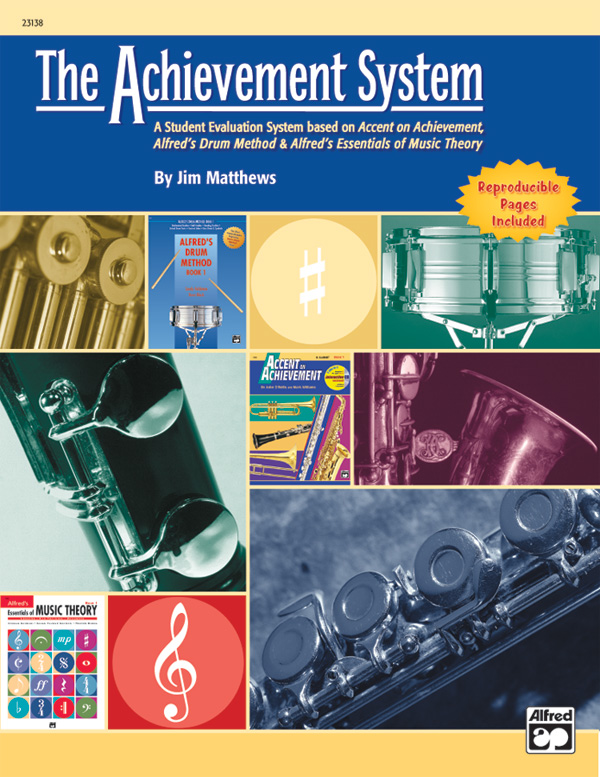 The Achievement System
Students learn fundamentals through reproducible exercises including performing and writing scales, theory, vocabulary, instrument care, tuning, and conducting. Percussion players will be equally challenged on exercises for mallet, snare, and tunable percussion instruments. Correlated with Accent on Achievement, Alfred's Essentials of Music Theory and Alfred's Drum Method, this indispensable tool even includes a final exam and tips on grading throughout the semester
Shop Now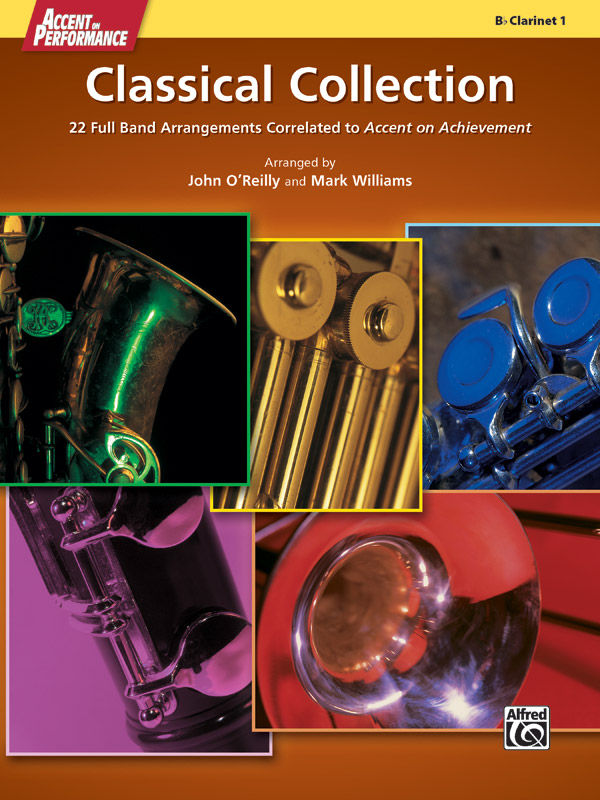 Accent on Performance Series
Over the course of ten years, legendary young-band composers John O'Reilly and Mark Williams composed and arranged over 100 creative works that correlate with specific pages in their highly successful band method, Accent on Achievement. Alfred Music is now proud to make these arrangements available in a book format that includes 22 full arrangements in each collection. Additional repertoire will provide more practice opportunities for your students. Collections include: Concert Favorites • Holiday • Light Concert • Marches • Classical.
Shop Now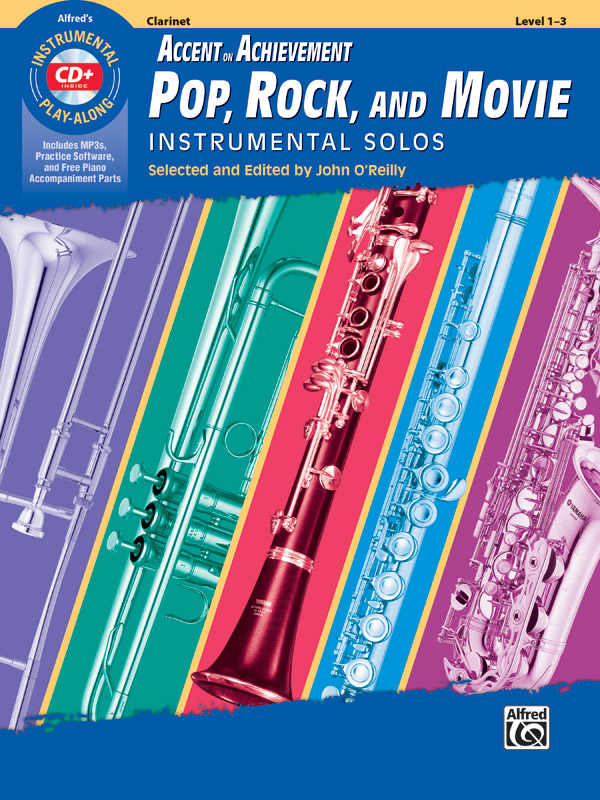 Accent on Achievement Pop, Rock, and Movie Instrumental Solos
Promote home and individual practice with correlated instrumental solo books, include your students' favorite tunes. Titles: Let It Go • We Are Young • Just Give Me a Reason • Firework • Girl on Fire • Best Song Ever • May the Force Be with You • Hedwig's Theme • and more.
Shop Now
Stay Updated
Want to get the latest updates and special offers from Alfred Music?