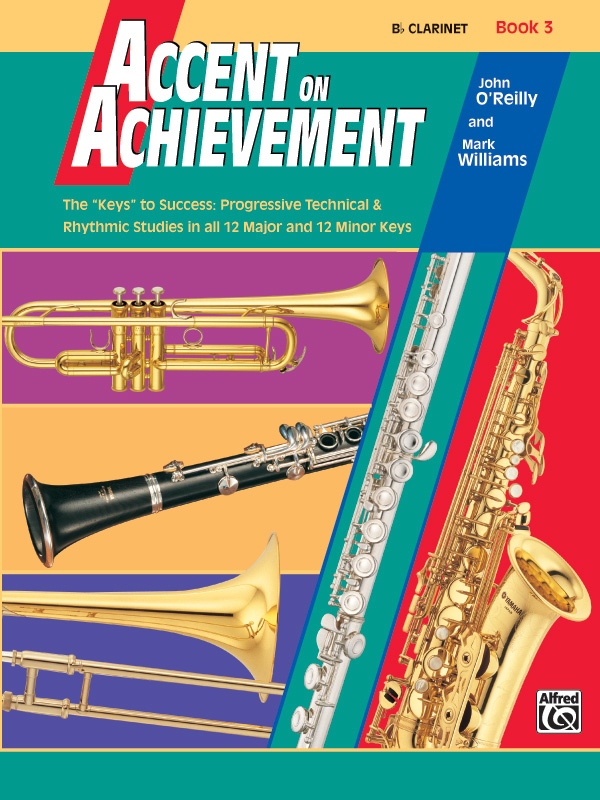 Accent on Achievement Book 3 Overview
Book 3 is organized by key signature and includes progressive technical, rhythmic studies and chorales in all 12 major and minor keys. Major, harmonic minor, chromatic, and melodic minor scales are also provided in all 12 keys as a great practice resource. Also included are lip slur exercises for increasing brass instrument range and flexibility.
Ensemble Playing Skills
Develop tone, intonation, balance, and blend with a rich variety of chorales, written by experienced band directors and composers, Mark Williams and John O'Reilly. The variety of folk, classical, and other styles will allow your students to learn how to listen critically in different situations, helping them build skills that they will need in their concert and contest music.
Rhythm and Meters
Special rhythmic exercises allow your students to learn advanced asymmetrical and changing rhythms and meters. Accent on Rhythm sections allow students to learn and experience new rhythmic patterns with plenty of practice opportunities.
The Perfect Resource Book for Directors
Book 3 is also written for ease of use and efficient utilization of rehearsal time, and is designed to produce the maximum technical development in the least amount of time. As a great resource for the busy band director, Book 3 may be used by upper level as well as progressing bands, serving as the "all-in-one" sourcebook for developing technically superior players, and will work alongside or after any method.