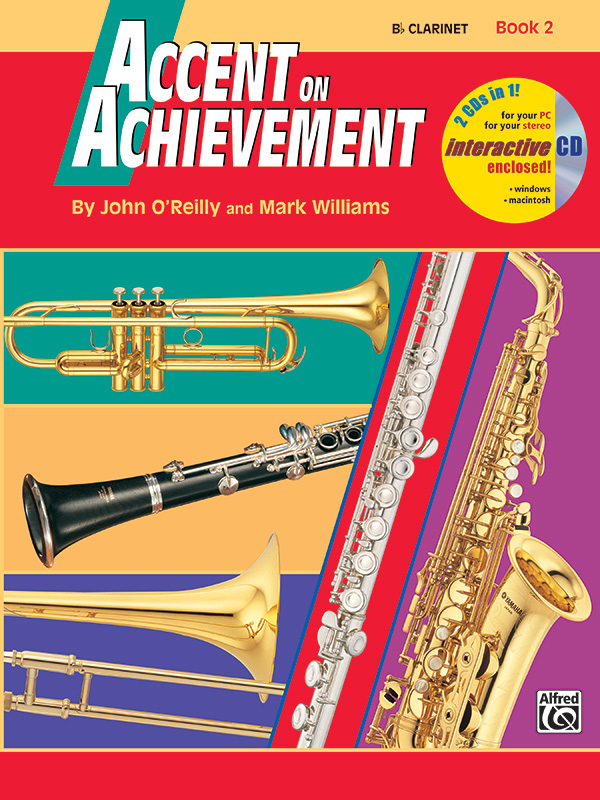 Accent on Achievement Book 2 Overview
Providing a smooth transition from Book 1, four pages of comprehensive review at the beginning provide a thorough reinforcement of previous materials, bringing your students up to speed no matter what method they were previously studying. Teach your students to play as ensemble musicians with plenty of ensemble playing opportunities. Create well-rounded musicians with reinforcement exercises that include duets, chorales, rhythm exercises, theory work, scale exercises, and more. Our students will be able to locate new concepts easily with the color-coding system.
Shop Now
Unique Features
Accent on Review: 4 pages of comprehensive review for a smooth transition from Book 1
6 full-band arrangements
26 different classical composers
41 folk songs from 19 countries
Chromatics and range development
7 technical exercises plus 2 additional pages!
Updated Accent on Interactivity Software available for download at alfred.com/AOI

3/8, 6/8, changing meters
Timpani included in the Mallet Percussion Book
Advanced snare drum rudiments
4 national anthems
---
---
Composer List
Alford : Colonel Bogey
Bach : Now Thank We All Our God
Beethoven; Theme from Violin Concerto in D
Bizet: Habañera from Carmen, March of the Toreadors
Dukas: The Sorcerer's Apprentice
Dvo?ák: Finale from "New World Symphony"
Foster: Some Folks Do
Gounod: Soldier's Chorus from Faust
Grieg: In the Hall of the Mountain King
Handel: Water Music
Herbert: Italian Street Song
Mendelssohn: Theme from A Midsummer Night's Dream
Morley: Now Is the Month of Maying
Mozart: Aria from The Marriage of Figaro
Mussorgsky: Hopak from The Fair at Sorochinsk
Offenbach: Barcarolle from Tales of Hoffman
Rachmaninoff: Theme from Piano Concerto No. 2
Rimsky-Korsakov: Procession of the Nobles
Rossini: Overture from The Barber of Seville
Schubert: Theme from Unfinished Symphony
Sousa: High School Cadets, The Thunderer
Tchaikovsky: March from Nutcracker
Verdi: La Donna é Mobile
Vivaldi: Spring from The Four Seasons
Wagner: Bridal Chorus from Lohengrin
Ward: America, the Beautiful
---
Folk and World Music
American Songs: Billy Boy, Erie Canal, Go Tell Aunt Rhody, The Old Brass Wagon, Old Dan Tucker, Over the River and Through the Woods, The Pawpaw Patch, Row, Row, Row Your Boat, Simple Gifts, The Star-Spangled Banner (National Anthem),Yankee Doodle
French-Canadian: Il est né
French: Pat-a-pan, Triplet Song
German: O Tannenbaum
Israeli: Zum Gali Gali
Italian: Tarantella
Liberian: Sing Noel
Mexico: El Floron
Spanish: Fum, Fum, Fum
Sweden: Nu är det Jul Igen
Welsh: All Through the Night
Traditional: Oats, Peas, Beans, The Man on the Flying Trapeze, Merrily We Roll Along, America / God Save the Queen, Battle Hymn of the Republic
Christmas/Hanukkah: Deck the Halls, Up on the Housetop, I Saw Three Ships