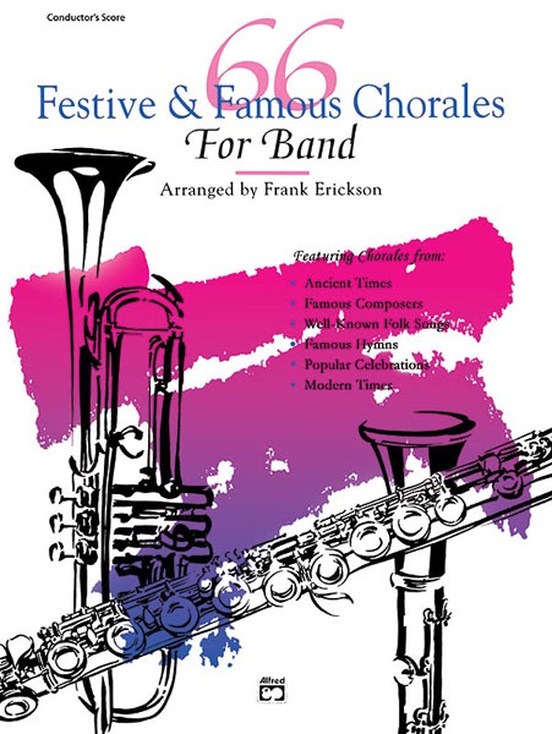 66 Festive & Famous Chorales for Band
Arr. Frank Erickson
2nd Clarinet Book
Item: 00-5270
Add to Cart
Add to List
Available Digitally
Related Items
| | | |
| --- | --- | --- |
| 66 Festive & Famous Chorales for Band: Flute Book | $6.95 | View |
| 66 Festive & Famous Chorales for Band: Oboe Book | $6.95 | View |
| 66 Festive & Famous Chorales for Band: 1st Clarinet Book | $6.95 | View |
| 66 Festive & Famous Chorales for Band: 3rd Clarinet Book | $6.95 | View |
| 66 Festive & Famous Chorales for Band: E-flat Alto Clarinet, E-flat Contrabass Clarinet Book | $6.95 | View |
| 66 Festive & Famous Chorales for Band: B-flat Bass Clarinet, BB-flat Contrabass Clarinet Book | $6.95 | View |
| 66 Festive & Famous Chorales for Band: Bassoon Book | $6.95 | View |
| 66 Festive & Famous Chorales for Band: 1st E-flat Alto Saxophone Book | $6.95 | View |
| 66 Festive & Famous Chorales for Band: 2nd E-flat Alto Saxophone Book | $6.95 | View |
| 66 Festive & Famous Chorales for Band: B-flat Tenor Saxophone Book | $6.95 | View |
| 66 Festive & Famous Chorales for Band: E-flat Baritone Saxophone Book | $6.95 | View |
| 66 Festive & Famous Chorales for Band: 1st B-flat Trumpet Book | $6.95 | View |
| 66 Festive & Famous Chorales for Band: 2nd B-flat Trumpet Book | $6.99 | View |
| 66 Festive & Famous Chorales for Band: 3rd B-flat Trumpet Book | $6.95 | View |
| 66 Festive & Famous Chorales for Band: 1st F Horn Book | $6.95 | View |
| 66 Festive & Famous Chorales for Band: 2nd F Horn Book | $6.95 | View |
| 66 Festive & Famous Chorales for Band: 3rd F Horn Book | $6.95 | View |
| 66 Festive & Famous Chorales for Band: 1st Trombone Book | $6.95 | View |
| 66 Festive & Famous Chorales for Band: 2nd Trombone, Baritone B.C. Book | $6.95 | View |
| 66 Festive & Famous Chorales for Band: 3rd Trombone Book | $6.95 | View |
| 66 Festive & Famous Chorales for Band: Tuba Book | $6.95 | View |
| 66 Festive & Famous Chorales for Band: Orchestra Bells Book | $6.95 | View |
| 66 Festive & Famous Chorales for Band: Timpani Book | $6.95 | View |
| 66 Festive & Famous Chorales for Band: Percussion, Snare Drum, Bass Drum Book | $6.95 | View |
| 66 Festive & Famous Chorales for Band: Baritone T.C. Book | $6.95 | View |
| 66 Festive & Famous Chorales for Band: Comb Bound Conductor Score | $32.95 | View |
Share
---
Description
A diverse and timeless collection of 66 famous chorales arranged for concert band by Frank Erickson. The chorales are all arranged in four parts (SATB) and, in addition to full band, are playable by a wide variety of smaller groups, from quartet on up. Besides being an excellent warm-up tool, 66 Festive and Famous Chorales for Band provides a perfect opportunity to work on musicianship, phrasing, balance and intonation.
---
Contents
Title
ANCIENT TIMES
The Crusaders
The Agincourt Song
Hodie Christus Natus Est
The Hunt's Up
The Doxology
Gloria Patri
Adoramus Te
JOHANN SEBASTIAN BACH
Praise to the Lord
Now Thank We All Our God
"Awake," the Voice Is Calling to Us
O Sacred Head, Now Wounded
O Be Glad, My Soul
O Be Glad, My Soul
The World's True Light
O Jesu Sweet, O Jesu Mild
Dearest Emmanuel, Lord of the Devout
Rise My Soul, to Watch and Pray
Now Let All the Heavens Adore Thee
Lord, Over Life and Death
FAMOUS COMPOSERS
The Harmonious Blacksmith
Austrian Hymn
The Spacious Firmament on High
Ave Verum Corpus
Ode to Joy
FROM THE BRITISH ISLES
Flow Gently Sweet Afton
Annie Laurie
All Through the Night
Londonderry Air
Greensleeves
The Minstrel Boy
FAMOUS HYMNS
Be Thou My Vision
God of Our Fathers
A Mighty Fortress Is Our God
Holy, Holy, Holy
Eternal Father, Strong to Save
Come, Thou Almighty King
Rock of Ages
MORE COMPOSERS
Lullaby
Largo
Finlandia
Children's Prayer
Cherubic Hymn
Salvation Is Created
AMERICANA
When Jesus Wept
Starlight
America, the Beautiful
Amazing Grace
O My Soul, Bless God the Father
Jeanie with the Light Brown Hair
CELEBRATIONS
Christ the Lord Has Risen Today
We Gather Together
Auld Lang Syne
Las Mananitas
Ma-Oz Tsur
Iris Festival
CHRISTMAS
While Shepherds Watched Their Flocks by Night
Hark! The Herald Angels Sing
Westminister Carol
Silent Night
MINOR KEYS
God Rest You Merry, Gentlemen
O Come, O Come Emmanuel
Our Father in Heaven
MODERN TIMES
Pavane for a Dead Princess
Drifting
Chorale
Modulation Chorale
---
Additional Information
| | |
| --- | --- |
| Arranged by: | Frank Erickson |
| Instrument: | Clarinet |
| Format: | Book |
| Instrumentation: | 2nd Clarinet |
| Page Count: | 24 |
| Item Number: | 00-5270 |
| ISBN 10: | 0-7390-0192-2 |
| ISBN 13: | 978-0-7390-0192-9 |
| UPC: | 038081008660 |
---
Stay Updated
Want to get the latest updates and special offers from Alfred Music?